Innovative Educational Solutions
Building the capacity of educators to serve ALL students.
As a student, a mom, and a teacher, I've experienced many late nights spent cramming to get a project completed and turned in on time. Unfortunately, for individuals with executive function deficits, planning can be an area of great weakness. This lack of planning can result in leaving things to the last minute, or not getting started with a project at all because it just seems too overwhelming.
Project mapping is a method whereby sticky notes are used to identify the different components of a project. A calendar is used to assign dates to each individual task, and that date is then written on each sticky note. The sticky notes are then placed on a planner with three columns: Not Begun, In Progress, and Completed. All sticky notes start in the far left column. As tasks are begun, they are moved to the middle column. When they are completed, they are moved to the far right column. The goal is to get all the sticky notes to the far right column before the due date.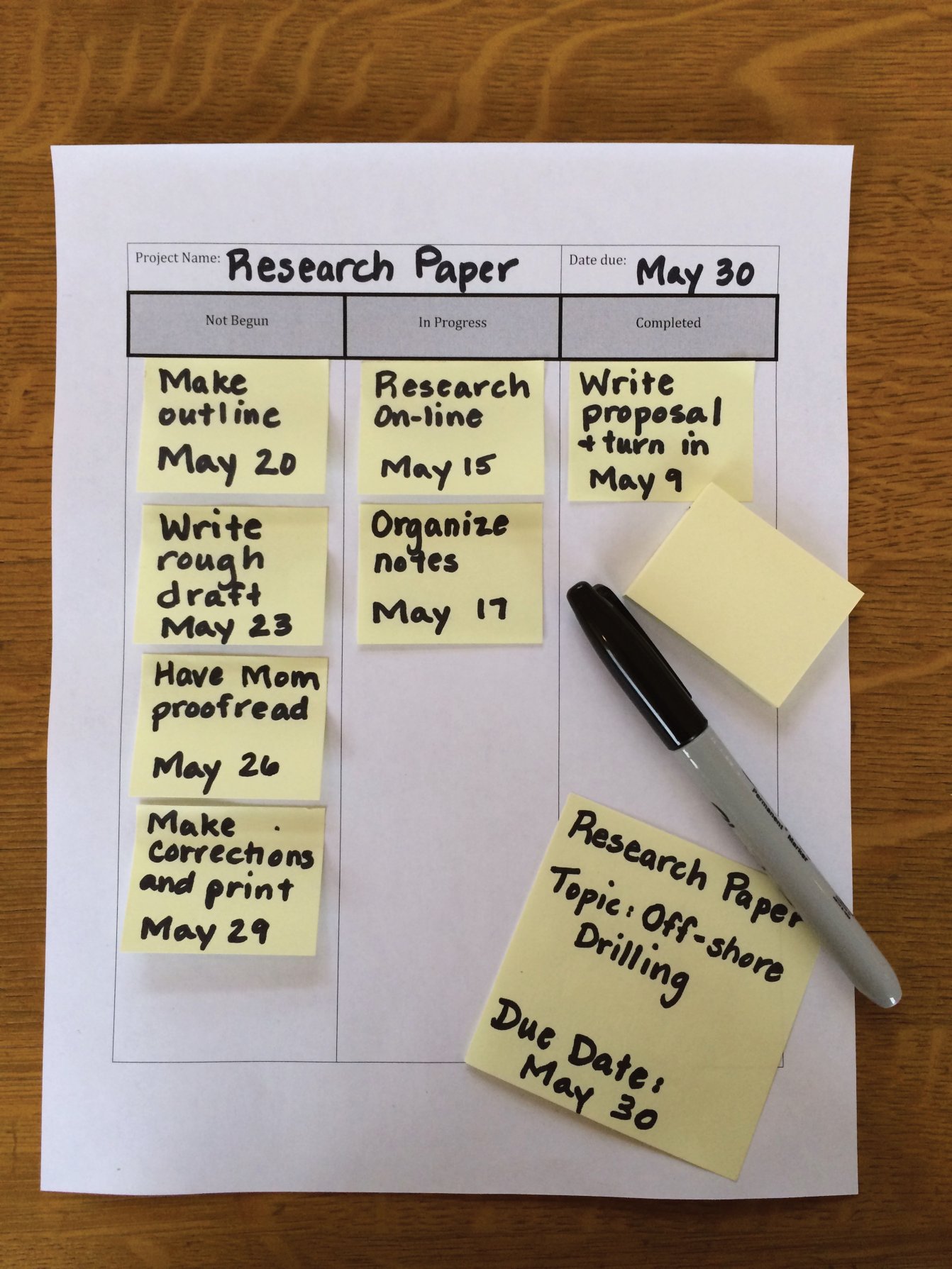 If you're a classroom teacher and you have students completing group projects, the project map can be easily adapted by using different colored stickies for different members of the group.
One of the reasons why this process is so effective is because it provides a visual reminder of all the steps that need to be completed in order for the project to be done. It also provides a strong visual regarding how much needs to be done, relative to how much has already been finished.
If you found this information helpful, please leave a comment and share this information with others who might find it useful.
A couple of weeks ago a good friend posted a picture of a
math problem
on Facebook that was originally posted by the Australian Tea Party and reputed to be an example of a Common Core (CCSS) lesson. I was intrigued by the post (I admit that I couldn't make sense of the math problem), partly because I wasn't aware that Australia had adopted the US Common Core State Standards,  and partly because in all my experience with the CCSS I had never experienced or seen anything like the problem that was being shown. 
I decided that I would do some research into the main objections regarding the adoption of the CCSS, with the goal of answering those objections in this blog. What I discovered is that the majority of the objections appear to be political in nature (federal government interfering in education, etc.). I am in no way qualified to speak to any kind of political concern or weigh in on a political debate, so I'm not going to touch that area with the infamous "ten-foot pole." I am, however, fairly knowledgeable about education, so I believe I might humbly weigh in on the debate in that arena. I have a feeling that this will extend into several blog posts, and I'm sincerely hoping that others will comment so that we actually have a dialogue about this content.
My focus today will be on the question of "why." Specifically, I want to discuss why some of us feel that the CCSS are a good idea for the field of education. 
In the late 1990s, the No Child Left Behind Act (NCLB) required states to develop content standards and to assess students on their mastery of those standards. As a result of NCLB, states across the country developed their own educational standards and then assessed their students based on their level of proficiency. Schools were then held accountable for bringing 100% of each sub-group of students to proficiency by the year 2014. Sounds good, right? Well, the concept is an interesting one, especially since students in different states were being measured according to different criteria. In California, where standards were reportedly on the more stringent end, schools struggled to bring all students to a level of proficiency. In other states, where content standards were set a lower level, proficiency was not such a big problem.
Throughout this time, institutes of higher education (colleges and universities) and employers were decrying the fact that graduates were not leaving school with the skills necessary to be successful in higher education and/or the world of work. Students were learning isolated skills, but they were not being taught how to think deeply, work with others, and solve problems.
Let me state here, for the record, that I believe that we have made some very good gains under NCLB. The idea of having state-wide standards of achievement and measuring progress towards those standards is, in my opinion, a good one. However, there are few people who would not agree that we still have room for growth. If our young people are going to learn to succeed in the 21st century, they need to master certain skills and learn to be deep thinkers, problem solvers, and collaborative workers. In my opinion, the authors of the CCSS strove to develop standards that push schools to teach in a way that does just that.
Your turn - what do you think about the changes in education since the passage of NCLB? Do you think education has improved, stayed the same, or gotten worse? Do you think education needs to change? If so, in what ways? Take this opportunity to join the conversation!

"My child was not having any success as she searched for an important paper that needed to be signed by me and submitted to the school office.  I opened her backpack only to find that it looked like a bomb went off inside!  There was so much stuff in there, including paperwork that should have been shared with parents at home as well as assignments that should have been turned in at school. Comments from some of her teachers made sense now—'She isn't turning in any homework'.  I know she is doing the work at home, because she shows it to me after she finishes.  Oh, what is a parent/teacher/educational professional to do?" 

If this sounds familiar, and you have a child or student who has a disorganized backpack or school locker, who doesn't take the necessary materials between home/school/classroom, who completes homework but doesn't turn it in, has difficulty planning for and keeping track of long-term assignments so that work is finished on time, you are going to want to know about the Master Binder System strategy!
The Master Binder System can be used with students of all ages and can be adapted to meet the needs of the student and the educational environment.
If you are interested in receiving a copy of The Master Binder System, please sign our Guest Book and send us your email address so that we can send you a copy of the strategy. Simply type "Master Binder System" in the message area and we will send you a PDF of the strategy within a week. We promise that your email address is safe and will not be shared with any other person or company. Nor will it be posted on our website.
Check out this email I received from my co-author, Carol Burmeister:
Hi Dr. Sheri,
I wanted to share a personal experience I had with my grandson last week.  I was helping him with his homework, which included preparing for a presentation on Ronald Reagan that he was expected to share in school on Friday.  He did research on his topic online and synthesized the information so that he could develop a presentation that included his findings and supporting evidence.  He made strategic use of digital media and visual displays to enhance understanding of his material.  He practiced his presentation skills at home before the big day.  On the day of the presentation, he impressed his teacher and his classmates who confirmed that he did a great job sharing his knowledge on the topic.  This experience with him made me thankful for the work that we have done on Project Mapping from FLIPP the Switch:  Powerful Strategies to Strengthen Executive Function Skills—that particular strategy definitely came in handy!  Oh—by the way—did I mention that my grandson is in kindergarten?
Carol's grandson is fortunate in that he has parents and grandparents who can help him develop a project that meets the requirements of the Common Core State Standards. However, for many individuals, planning a project to ensure it will be completed in time with all required components intact, can be extremely stressful. For someone with executive function deficits, the entire process can be totally overwhelming. That's where Project Mapping can be an invaluable tool in supporting the individual with EF deficits to visualize the steps needed to complete the project. This tool can be used by parents and educators and can be taught to students so that they can use it independently in the future.

Carol and I would like to make this super-effective planning tool available to readers of this blog for
free
during the month of February. If you would like to receive a copy of
Project Mapping
for free, please sign in on our
Guest Book
and type in "Project Mapping" in the comment section. Your free copy of
Project Mapping
will be sent out within the next week. If you know of anyone else who could benefit from this free resource, please have them sign into our
Guest Book
and we will gladly send them a free copy as well.
Have a great week and check back next week for another free resource for supporting individuals with executive function challenges.

When I think of Executive Function (EF) skills, I picture those movies in which a high-powered executive is followed around by an executive assistant who takes care of all the details. "Ma'am, your 9:00 is waiting in room B. You're conference call will begin at 9:45 and I'll make sure everyone is ready and waiting on the line. Tomorrow is Valentine's Day; I ordered a gift to be delivered to your husband at work and a flower arrangement to be delivered to your mother. I also wrote a thank you note to your mother-in-law for her birthday gift and sent that in the mail." Ahhh....bliss! Who wouldn't want someone taking care of all those pesky details that are so easily overwhelming!
EF skills are a little like that executive assistant in that they help us to get places on time, plan activities and a method to execute them, solve problems, and remain flexible and not overly emotional. Carol Burmeister and I have been writing a book entitled, FLIPP the Switch: Powerful Strategies to Strengthen Executive Function Skills (to be published by Autism Asperger Publishing Company in summer 2014) and we have learned a lot about EF and how EF deficits can affect many aspects of an individual's life. The book features 25 strategies that can be implemented by parents and educators to help individuals with EF deficits to be more productive.

FLIPP is an acronym that stands for Flexibility, Leveled Emotionality, Impulse Control, Planning and Problem Solving.
Next week, we'll be focusing on Project Mapping, a strategy that can support individuals in mapping out a complex project so that all parts are completed in a timely manner, leading to a finished project that is ready to turn in on time. You'll have an opportunity to have a PDF version of the Project Mapping template sent to you for free via email. This is a great opportunity to learn about one of these strategies prior to the release of the book next summer and we know that you will find Project Mapping incredibly useful. We are excited to share it with you and to hear your stories about how you have used the strategy at home and school.
You might also want to check the IES
Resource
page to view a presentation about Supporting Students with Executive Function Deficits.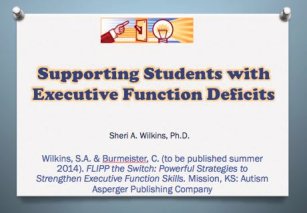 In my last two blogs I've reviewed the first two guiding principles included in the USDE document,
Guiding Principles: A Resource Guide for Improving School Climate and Discipline
(2014). If you haven't had a chance to check out my first two blogs on the first two guiding principles, please do so. Today I'm trying something different (yet again). I've recorded a short video which can be viewed by clicking below. If you are viewing from an educational facility that blocks YouTube, click
HERE
.
Exciting News for February!
During the month of February, Carol Burmeister and I will be collaborating on a series on executive function. Did you know that many students suffer from executive function (EF) deficits? Did you know that poor planning skills, ineffective problem solving skills, a lack of flexibility, poor impulse control, and a tendency toward emotional outbursts can all be symptoms of poor executive functioning? Each week during the month of February, Carol and I will be sharing information about executive function and readers will have the opportunity to download a how-to guide for one evidence-based, highly effective strategy for working with individuals with EF deficits following each blog post. These strategies are ones that will be included in our book, FLIPP the Switch: Powerful Strategies to Strengthen Executive Function Skills, which will be published by AAPC in summer of 2014. However, readers of this blog will not have to wait until next summer to experience the benefit of implementing these strategies. Beginning next Friday, one strategy will be highlighted each week and complete instructions and templates will be made available in PDF format.

I'm trying something new for my blog today. I'm going to focus on the second of the three guiding principles that are included in the USDE resource guide and I've developed a
Prezi
with audio to do so. Please click on the link, press the "play" button on the bottom left of the presentation screen, turn up your speakers, and then let me know how you like the format.
Have a great day!

In the U.S. Department of Education document, Guiding Principles: A Resource Guide for Improving School Climate and Discipline (2014), the first guiding principle that is outlined is entitled "Climate and Prevention." Positive school climates are described as necessary to, "prevent problem behaviors before they occur and reduce the need for disciplinary interventions that can interfere with student learning" (USDE, 2014).
The document presents six action steps that schools should implement in order to boost academic excellence and student success. The six steps are described in some detail in the USDE document; I'm going to try to summarize each step in one or two sentences.
Engage in deliberate efforts to create positive school climates: schools should conduct a needs assessment, involve a range of stakeholders, craft goals regarding the provision of supports for all students, and collect and use multiple forms of data to propel continuous improvement.
Prioritize the use of evidence-based prevention strategies, such as tiered supports, to promote positive student behavior: schools should implement strategies (such as a multi-tiered system of supports, or MTSS) that identify students in need of more intensive support and should implement a system that provides universal (school-wide), targeted (small group), and intensive (individual student) supports designed to meet the needs of all students in a diverse student body. The Department of Education cites PBIS as a framework that has been found to be effective in improving, "academic, social, emotional, and behavioral outcomes for students" (USDE, 2014).
Promote social and emotional learning to complement academic skills and encourage positive behavior: schools need to take active steps to teach social and emotional competencies (e.g. self-management and -awareness, resilience, responsible decision-making, and social agility), which will contribute to both social development and academic success. In addition, schools need to provide students with opportunities to practice these skills while receiving constructive feedback, in order to support students in being more metacognitive in the area of social and emotional skills.
Provide regular training and supports to all school personnel - including teachers, principals, support staff, and school-based law enforcement officers - on how to engage students and support positive behavior: schools need to provide all individuals who interact with students effective professional learning experiences that are matched to the individual needs of the school personnel and this training should focus on ways to ensure fair treatment of all students. The school should develop and implement procedures for analyzing the effectiveness of these professional development efforts.
Collaborate with local mental health, child welfare, law enforcement, and juvenile justice agencies and other stakeholders to align resources, prevention strategies, and intervention services: schools should develop partnerships in order to more effectively meet student needs, especially those students coping with mental health or emotional issues or trauma. These partnerships can be integral in meeting the needs of students for targeted and/or intensive interventions.
Ensure that any school-based law enforcement officers' roles focus on improving school safety and reducing inappropriate referrals to law enforcement: schools have a responsibility to make certain that school resource officers are focused on protecting the physical safety of the school through the provision of a clear definition of the role of the officers and their responsibilities, appropriate training, and continuous monitoring through data collection and evaluation.
These six action steps are all supported when schools choose to implement a school-wide system such as PBIS. PBIS is not a program, it is a way of organizing a school's behavioral interventions so that a school can ensure that they are meeting the needs of all students. Having worked with dozens of schools that are implementing PBIS, I can speak from personal experience regarding the difference PBIS makes in the climate of a school. Students enjoy coming to school and are prepared for the rigorous demands of the Common Core State Standards when behavioral expectations are clear and positively stated, students are acknowledged for appropriate behavior, adults in the system deal with misbehavior in a consistent and respectful manner, and behavior is taught as strategically and explicitly as academics.

If you're interested in training and support for the implementation of PBIS at your school or district, please
contact IES
.
Reference: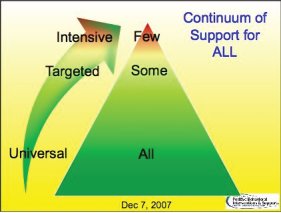 Last spring a group of individuals from across the state met to identify the best ways to support schools in the implementation of the Common Core State Standards (CCSS). The group felt strongly that schools need to focus on the implementation of a multi-tiered system of supports (MTSS) in order to strategically meet the needs of all students. In addition, the group identified four components that need to be in place in order for schools to meet the challenge of preparing students to be college and career ready:
Positive school culture
Powerful teaching and learning
Progress monitoring and data-based decision-making
Visionary leadership



Over the next few weeks I will be delving into each of these four areas more extensively, but today I want to take a closer look at the first component: positive school culture.

 


On January 8, 2014 the U.S. Department of Education (DE), working collaboratively with the U.S. Department of Justice (DOJ), released, "a school discipline guidance package that will assist states, districts and schools in developing practices and strategies to enhance school climate, and ensure those policies and practices comply with federal law." The package can be found on

ed.gov

and provides schools with resources for the creation of safe and positive school climates.

 


Why did our work group feel that creating a positive school culture is one of the components necessary for the implementation of the CCSS? Because, as U.S. Secretary of Education Arne Duncan says, "Effective teaching and learning cannot take place unless students feel safe at school…" (U.S. Department of Education, & U.S. Department of Justice, 2014).

 


1.     Climate and Prevention

2.     Clear, Appropriate, and Consistent Expectations and Consequences

3.     Equity and Continuous Improvement

Over the next week I will be discussing these three guiding principles separately and more in-depth and identifying why I believe schools should implement School-wide Positive Behavioral Interventions and Supports (SWPBIS) in order to create nurturing, positive, and safe environments that will boost student achievement, overall success, and ultimately prepare students for college and career.

 


For more information on SWPBIS and MTSS, check out the resources available at

www.pbis.org

.

 


 


U.S. Department of Education (2014). Guiding principles: A resource guide for improving school climate and discipline, Washington, DC. Retrieved from http://www.ed.gov/school-discipline

0

/