Innovative Educational Solutions
Building the capacity of educators to serve ALL students.
Visual scales are terrific tools for helping young people with executive function challenges to see and understand the subtleties of everyday life. Click
here
for a document with instructions on how to make a visual scale. And click
here
for a short YouTube video showing how to make a visual scale.
Visual scales can be used in a variety of ways: to show voice or noise levels, to communicate state of mind, to indicate physical health, or to show proximity. Visual scales work by showing the current level in relation to the desired level, and by tracking progress toward the desired level.

Have you successfully used visual scales with your students or children? If so, please share in the comments so that other readers can benefit from your experiences.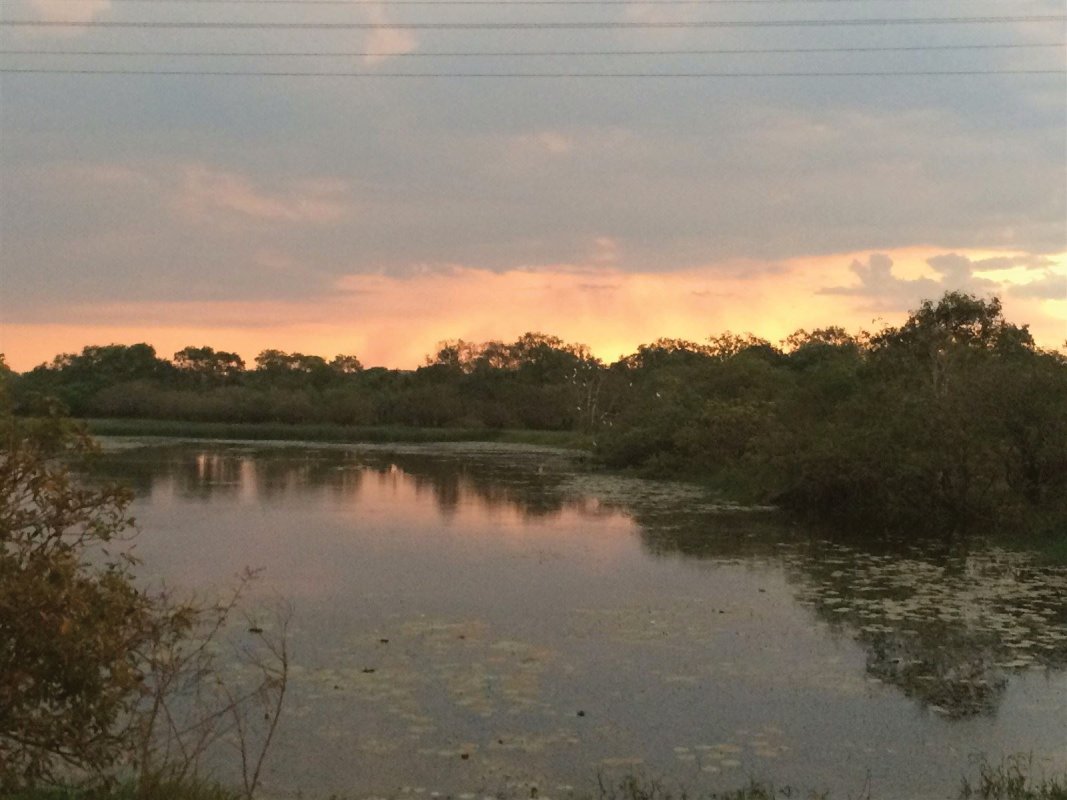 I'm sitting and relaxing in the comfortable and relatively quiet Qantas club in Sydney, after my decidedly uncomfortable and noisy red-eye flight from Darwin. I have a few hours before I leave to visit family in Canberra, so it seemed a good time to catch up on my blog.
I arrived in Darwin just two weeks ago, for my third trip to my three schools in the Outback. I was excited to check in; to be honest, I had missed my Australian friends and the children I've grown so fond of. I arrived to a different climate than what I've experienced in my past visits. It's currently the dry season in the Northern Territory, which means that the endless humidity and rain that happens in the wet season has taken a short break. The weather was beautiful - still hot, but hot and dry, with a nice breeze to cool things down just a little.
Because it's the dry season, I wasn't traveling via small plain. Instead, I was traveling with my Aussie colleague in a very nice 4WD SUV (or a "ute," as they are called here). We left Darwin very early on Monday morning for our approximately four-hour trip to our first school. The first part of the trip was really good - paved, two-lane road and very little traffic. However, an hour or so into the drive, the road narrowed, and I felt that I was driving through the infamous narrow roads in rural England. We drove along for about an hour on that narrow road, when the pavement ended completely, and we bounced along on dirt, sand, and rocks for the remainder of the journey. Eventually we arrived at our first school, the smallest of my schools, and the one that exhibited the most challenging behavior in the past.
We parked the car and climbed the steps to the school, a little puzzled by the silence that greeted us. It turned out that the students had been held over after a weekend festival several hours away, which meant that we were able to work with the teachers and assistant teachers on data collection and lesson delivery. We left later that afternoon and drove to the next community, which was about an hour away. We got to the community and met up with the principal, who gave us the keys to our housing for the week. 
We soon discovered that we would be staying in an interesting little house. We each had our own room, which opened onto an outdoor corridor, which led to the common room, which housed the kitchen, living room, and bathroom facilities. It was comfortable, and clean, but somewhat strange in that any trip to the bathroom, or the kitchen, required a short walk outside, along with the need to lock and unlock the doors in between. Needless to say, such an arrangement makes one seriously reconsider the amount of liquid one consumes in the later hours of the day! Furthermore, we learned that we were not the only ones staying in the house. One afternoon I used the bathroom, flushed the toilet, and was quite surprised when something brown jumped out of the toilet at me. I looked down to see this little guy holding on for dear life.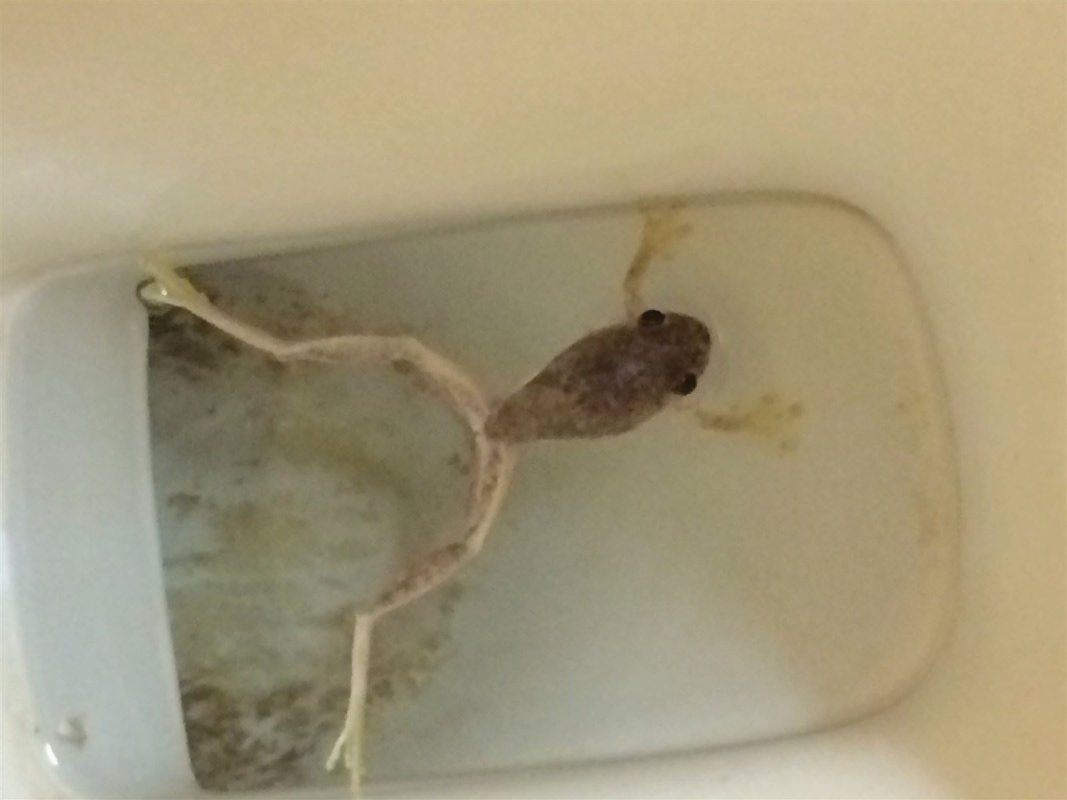 I'm happy to report that he eventually escaped the toilet and we didn't have any more "surprises" when using the facilities!
The next day we were able to visit classes at the school and I was extremely impressed with the growth the students had made in reading and language. It was so rewarding to see the students working hard and to view the incredible progress they had made. We spent three days at the school, then made the drive back to the first school, to see if we could connect with students there.
When we arrived, we were amazed at the sound of students engaged in learning. We could hear students reading and answering together. When we entered the class, I was greeted with cries of, "Miss Sheri!" - but none of the students jumped up or lost focus in the lesson. I was over-joyed to see the students reading so well. Even the students who had struggled a great deal in the beginning were reading and completing their workbook pages with a minimal amount of help. Moreover, their behavior was much improved. We spent time in the two classes that comprise the school, then took off to make the bumpy, dusty, somewhat hair-raising ride back to Darwin.
I was able to connect with a couple of Americans who are doing the same work I'm doing, and we spent a wonderful weekend shopping, eating, and taking a sunset cruise on the bay. It was a terrific weekend, but come Tuesday morning, it was back on the road!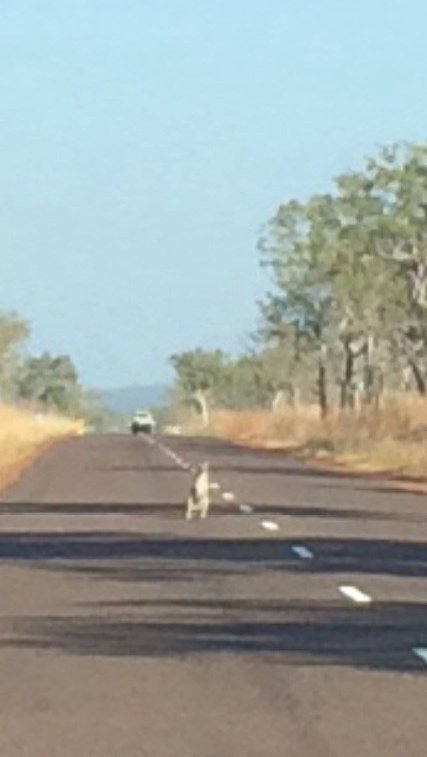 The ride on Tuesday morning was not too different from the ride the week before, with one exception - we saw kangaroos (well, wallabies, actually - but they're pretty-much just smaller kangaroos)!  
We also saw water buffalo, brumbies, and a couple of wild bulls.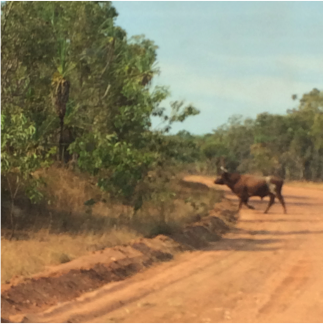 We spent some more time at our biggest school, meeting with teachers and enjoying observing student progress. We then went on to our third school, where we were once again pleasantly surprised by the progress the students had made. The first night we were there, we took a drive out to the flood plain, which was accessible only because the water had dried up in the dry season.

As we drove through the plain, we came upon a disturbing sight - at least a half-dozen dead horses, at least what was left after the scavengers had had a go. It was an extremely creepy sight, and we are not quite sure what the carnage was a result of.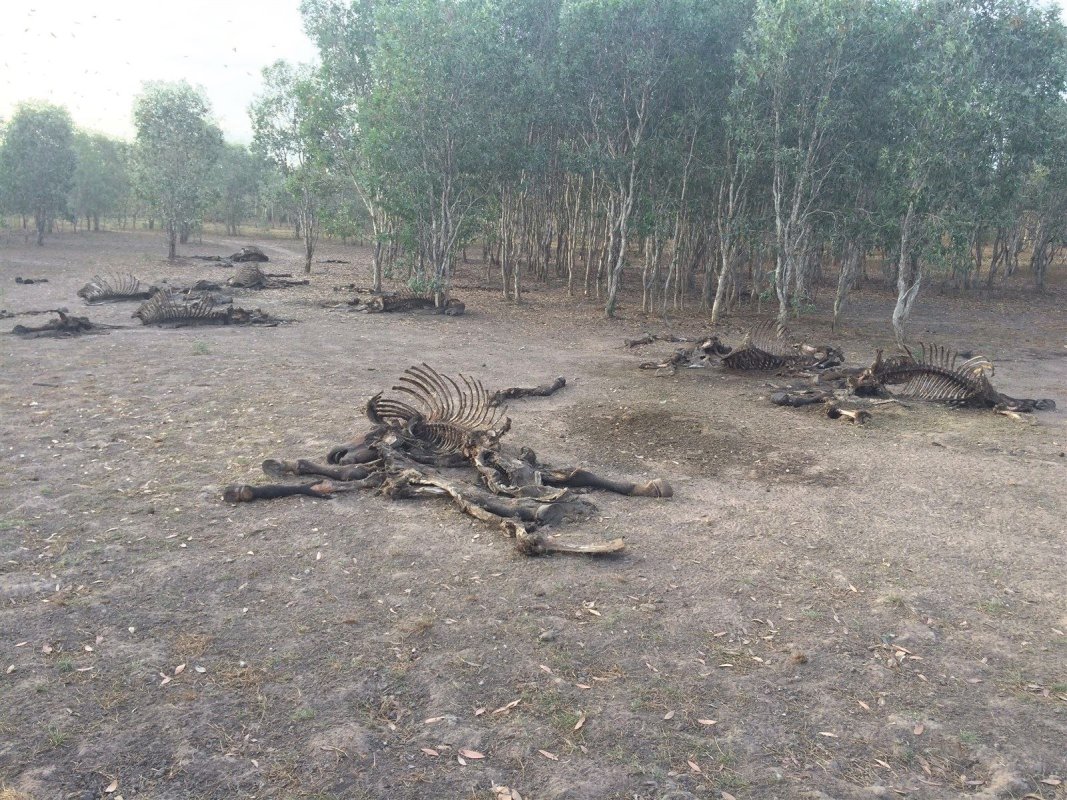 Despite the grisly discovery on our drive, we were treated to a lovely view of the sunset, in a nice quiet spot next to a small pond.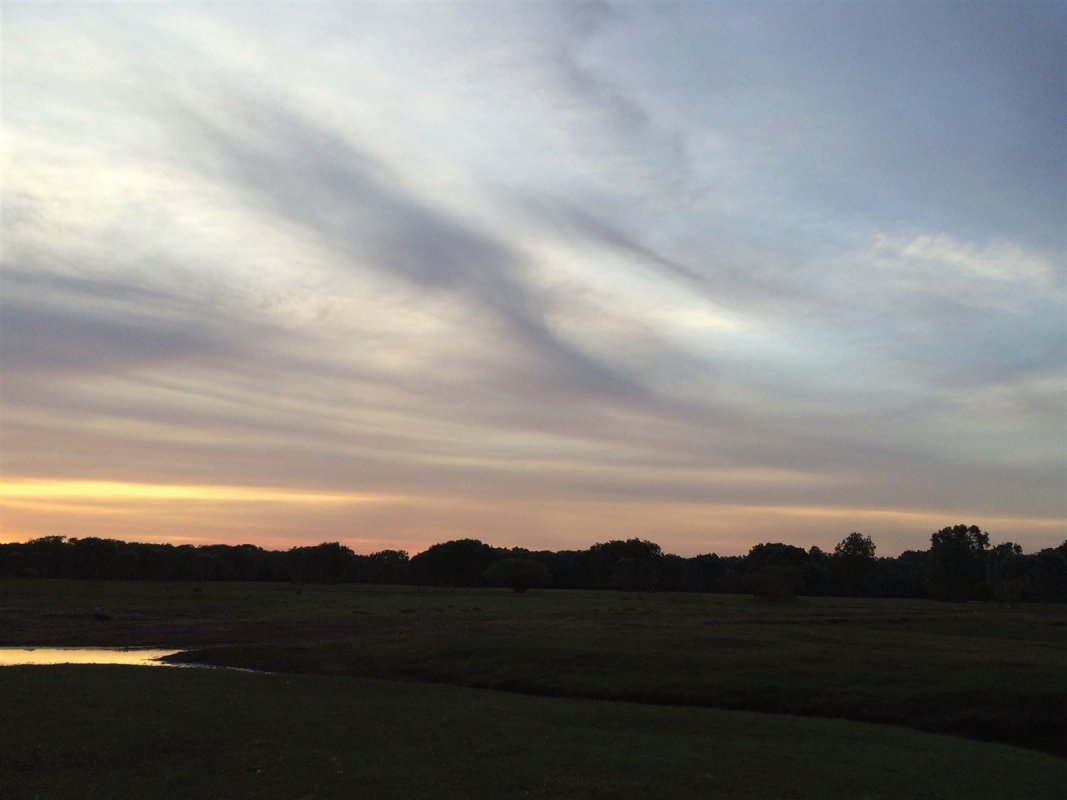 On our last day in the community, we delivered an in-service session to the three schools, at the most centrally located school. Teachers and assistant teachers from the schools came together to learn, and to connect. They all contributed to morning tea, and a BBQ lunch, which were both incredible. Living in the Australian Outback, in a remote community, can be rather lonely, and it seems that everyone appreciated a chance to get together and learn more about each other.
We soon had to hit the road again, back to Darwin for the last time (this trip). On the way back, we passed several sections where the bush was being burned, which is what is needed to promote renewed growth in the Outback. It's a little alarming to drive past a section of the land that is burning, but I was assured that it is planned, and that the burning is safely controlled. In any case, it makes for an eery filter through which to view the wild country!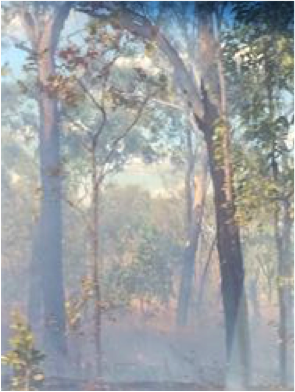 All in all, this was a trip that was marked by extremes. The beauty of the sunsets, the eeriness of the dead horses...the lush greenness of the Outback, and the smoky haze of the controlled burnings...the joy of hearing children learning, and the heartbreak of learning more about what they live through, and experiencing first-hand the ways they can be hurt. I have been permanently touched by my experiences so far, and my heart aches for the children, while deeply hoping that Margaret Mead was right when she said, "never underestimate the power of a small group of committed people to change the world. In fact, it is the only thing that ever has." I'm not out to change the world, but if I can have a part of changing the future for a group of very special young people, then I pray I am up to the task!
Cheers until next time!

In
my last blog post
I wrote about the concept of mental flexibility, how it relates to executive function (EF), and gave some ideas for strategies you might use when working (or living) with someone who is not very flexible (mentally speaking).
Today I'd like to share my top three tips for a peaceful co-existence with your mentally inflexible student, child, spouse, friend, co-worker, boss, or parent. Please keep in mind that these tips come from my own personal experience, so they may or may not apply in your position. As with everything you read on the Internet - read with care, use what makes sense for you, ignore the rest!
Three Tips for Dealing with Mental Inflexibility
1. The more inflexible the person you are dealing with, the more flexible you must be.
Or, as Yoda might say, "Inflexible he is. Very flexible you must be." The biggest problems occur when a parent (or teacher, or boss) is dealing with someone who has EF deficits that are typified by inflexibility and that parent (teacher, boss, etc.) expects things to be done their way, no questions asked, no exceptions granted. This can be really tough for parents (personal experience here) who have set standards that may need to be put aside (just for awhile). For example, we have always insisted that our boys come to the dinner table properly dressed in a shirt with sleeves (no bare chests and no tank tops). After our son experienced his traumatic brain injury (TBI), we had many, many arguments (which escalated abruptly) about him wanting to wear a tank top to dinner. In retrospect, we had much bigger issues to deal with. We needed to be flexible in some of our demands, with the knowledge that we could always work on the tank top issue at a later date.
2. Keep in mind that anything you say will can, and will, be held against you

I was speaking with an educator recently who shared a story about a young lady with TBI who had been told that she could get a work permit once she attended school every day for a month. The young lady (let's call her Sally), excited to start work, attended every day for a month and then approached her teacher about the work permit. The teacher, aware of other issues in Sally's life that predicated a change in plans, explained to Sally that she would sign the work permit in a week or so, after she had a chance to meet with her transition worker. Sally responded by pointing out that she had come to school for the month, as directed. The teacher explained her reasoning again. Sally (in a significantly louder voice) repeated that she had done what she had been told to do. This went on for a few more minutes, with Sally becoming more angry and unreasonable as the conversation escalated. Finally, Sally said a few inappropriate words, threw a stack of papers on the floor, and stalked out of the classroom. In analyzing this situation, the problem started when the educator told Sally that she would sign the work permit if she attended school every day for a month. As this is a very specific time period, Sally fully expected that she would get her work permit once she kept her part of the bargain. When the teacher couldn't do what she had said she would do - even for very valid reasons - Sally felt as though she had been lied to. Sally's inflexibility in thinking resulted in a situation that quickly escalated out of control. The teacher may have avoided the unpleasant situation by originally stating that she was concerned about Sally's attendance and that they would discuss the work permit again once Sally had attended school regularly for a month. They could have then discussed the work permit and, if nothing else needed to be done, the teacher could have given Sally her permit. However, if there were other considerations, those could have been dealt with at that time.

3. Sometimes the best gift you can give someone who is mentally inflexible is the gift of reflection
Often people who are mentally inflexible will jump to a conclusion, or make a decision, without thinking through all angles, or considering all factors. When this happens, it can be very difficult for them to even consider the possibility that there might be other alternatives. In these situations, it can be helpful to reflect back on what they've decided, "OK, so you've decided that you are going to tell your boss that you're tired of having to clean the back room each Friday." Make sure that you reflect what they have said, and that you are using a respectful, approachable tone (beware of sarcasm as it will close down the conversation pretty quickly, and possibly quite unpleasantly). You might ask the person to imagine what will happen if they go with that idea (this might be a good time to talk about intended and unintended consequences). Then ask if you might help with thinking of some other ideas that could work as well. I've used the line, "That might be the best idea, but what if we try and think of three other ideas that could also work?" I've found that writing the ideas down can help in keeping things straight. A whiteboard is great for this, and can be a fun alternative to paper and pencil.
I know that it can be a challenge to remain calm and focused when you are trying to help someone else become more flexible in their thinking. What I've learned to do is to be as flexible as possible myself in as many situations as I can. I have to ask myself often, "Is this my hill to die on?" If the answer is no, then I have to let it go. Believe me, there are some situations that are not negotiable (wearing a seat belt in the car, for instance), but because those situations are few and far between, I've found that compliance is much more consistent (and less painful).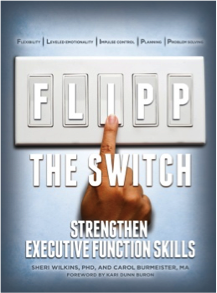 The good news is that the use of great strategies, like those you'll find in
FLIPP the Switch: Strengthen Executive Function Skills
, can help a person become more mentally flexible. The strategies shared in the book can minimize conflict and maximize effectiveness, when working or living with someone who struggles in the area of executive functioning. Next week, check back for some strategies for dealing with someone who tends to be overly emotional. Until then, stay flexible!
I've never considered myself to be very flexible. In fact, when I was eight years old and taking ballet classes, my Russian ballet instructor was dismayed at how my young body simply refused to bend on command. I've found that doing yoga regularly can contribute to a more flexible body, but what can one do when the problem is an inflexible brain?
Last week I discussed executive function (EF), which is a set of cognitive functions that help us to be more mentally flexible, less impulsive, able to control our emotions, and capable of planning and problem solving. I promised to discuss each of these areas more fully, and to provide some ideas for strategies that can be used to support children and adults who experience EF challenges.
In FLIPP the Switch: Strengthen Executive Function Skills, we define flexibility as, "the ability to change your mind and make changes to your plans as needed" (Wilkins & Burmeister, 2015). Perhaps you know someone who always needs to have things their way, or perhaps you've had experience with someone who gets an idea in their mind and can't seem to see any other alternatives. These individuals were exhibiting a lack of mental flexibility.
Having mental flexibility is important in that it allows us to move forward and get things done, even when things might not happen as planned. It also allows us to look at a situation from several different perspectives, enabling us to "try on" different solutions, eventually landing on one that makes the most sense. It also helps us to take the perspective of others by making it possible for us to put ourselves in the place of someone else, ultimately allowing us to show empathy and understanding. Finally, mental flexibility makes it possible for us to go into unfamiliar situations and adapt our behavior to fit in with the expectations of the particular situation.
One strategy that can be used to build mental flexibility for building contextual sensitivity (the ability to "size up" a situation and adapt behavior accordingly) is a process called SOARR. The letters in SOARR stand for:
S - Specify the specific situation (i.e., eating in a fancy restaurant)
O - Observe how others are behaving (i.e., talking quietly, using cutlery, etc.)
A - Analyze what behaviors will need to be exhibited in order to fit in with the environment 
R - Respond based on the observation and analysis
R - Reflect on your own perceptions and the responses of others
SOARR can be used as a coaching tool, with one individual taking on the coaching role and supporting the other person to walk through the steps. The coach could be a trusted adult, such as a teacher or a parent, who works with a young person who needs some help with mental flexibility. However, an individual can also use SOARR as a self-coaching tool, running through the steps mentally when in an unfamiliar situation. The goal is to build flexibility so that one can quickly analyze a situation, determine the expected behaviors, and adopt those behaviors that will enable the person to comfortably navigate the situation.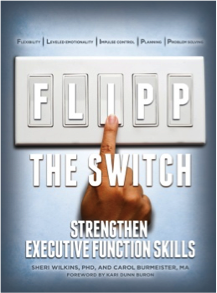 For more information on executive function, as well as 25 strategies for supporting individuals with EF deficits, check out
FLIPP the Switch: Strengthen Executive Function Skills,

which is available from AAPC Publishing, as well as major booksellers (such as Amazon.com and Barnes and Noble).
Next week I'll discuss the link between EF and emotions, and share a strategy for reducing the emotionality that can sometimes occur when we're working with a someone with EF challenges. Until then, stay agile, both in body and mind!


Do you work with a student, have a child, or live with someone who is disorganized, inflexible, impulsive, and who struggles with planning and problem solving?  Did you know that these traits fall into a category of skills called executive functions? Your student, child, or significant other may find it difficult to achieve in school, follow through with responsibilities at home, and/or interact appropriately in work and community settings – not because of a lack of effort or desire to do well but due to a lack of executive function (EF) skills.

One easy way to remember some of the major components of executive function is to think of the acronym FLIPP: Flexibility, Leveled emotionality, Impulse control, Planning/organizing, and Problem solving (Wilkins & Burmeister, 2015):
·      Flexibility:  The ability to change your mind and make changes to your plans as needed.
·      Leveled Emotionality:  The ability to emotionally self-regulate and avoid extensive mood swings
·      Impulse Control:  The ability to control your impulses, such as waiting to speak when called upon.
·      Planning/Organizing:  The ability to make plans and keep track of time and materials so that work is finished on time.
·      Problem Solving:  The ability to know when there is a problem that needs to be solved, generate solutions, select one, and evaluate the outcome.
Executive function deficits can negatively impact success at school, home, the community, and work.  Although many educators associate deficits in EF skills with students on the autism spectrum, the reality is that many young people struggle with executive functioning. In fact, it is accurate to say that all young people are learning EF as these skills are not fully developed until people are well into their twenties. In addition, several clinical conditions, such as attention deficit disorders, fetal alcohol syndrome disorder, intellectual disability, obsessive-compulsive disorders, social communication disorder, specific learning disability, Tourette syndrome, and traumatic brain injury are often understood to include a component of EF deficits. Furthermore, individuals with diagnoses such as anxiety, depression, and schizophrenia may also exhibit deficits in the area of executive function.
The bottom line is that many of the individuals with whom we interact on a daily basis may lack fully developed executive function skills. The good news is that there are some very easy-to-use strategies that can go a long way toward minimizing conflict and maximizing success in dealing with someone who struggles with EF. Tune in tomorrow for ideas to help with mental flexibility.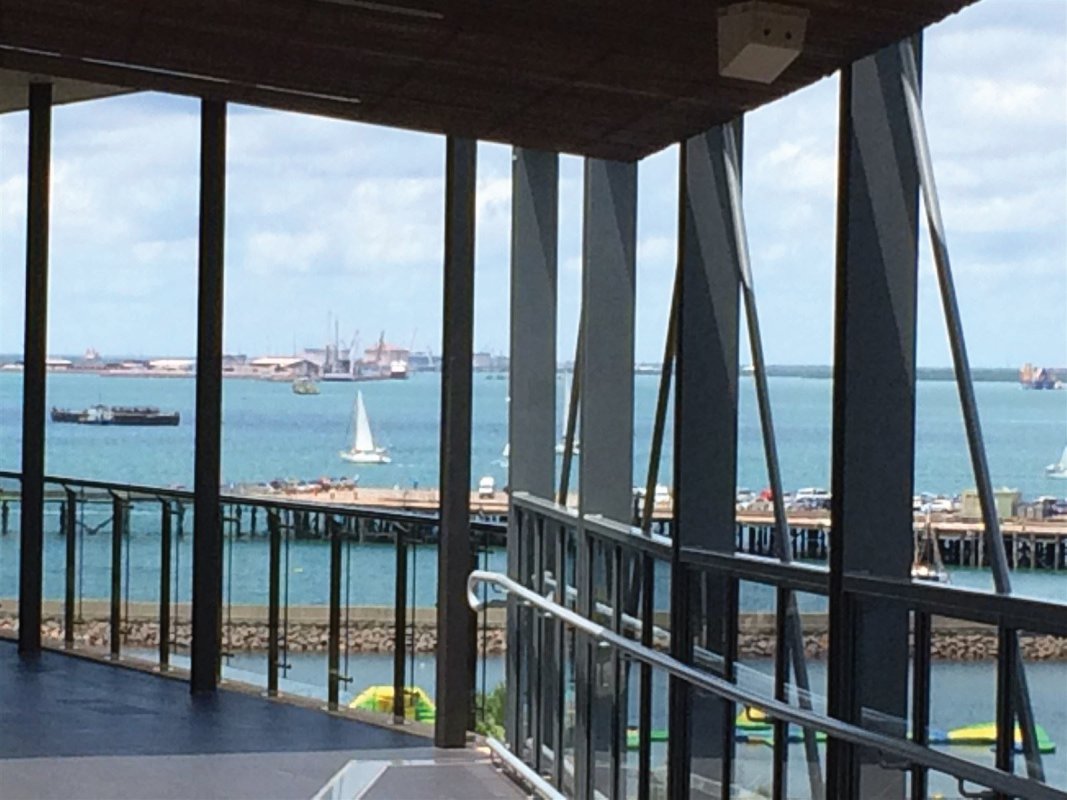 I'm back in Darwin for the weekend, after spending the past week in two of my three remote community schools. I honestly didn't know how I'd feel to be back, as I was definitely ready to be home at the end of my last trip. However, I must say that it was really nice to return to Australia, and I have enjoyed being back at my schools. Another nice bonus is that I've actually traveled with someone else during this trip, which has been fun. 
On Monday we flew out to my most remote school to find out how they are coming along with implementing Direct Instruction at their school. During my last visit to this school I was really concerned about the behavior I observed. I found that student behavior has improved somewhat, which was a nice surprise. However, I was really excited to observe the improvements in academics in several groups. It was really nice to see the older students reading short stories and staying focused during entire DI lessons. The younger students are still struggling with behavior, but we made some changes to groups and the schedule, so I'm confident that they will also begin to show improvement.
I brought Kirkland Signature fruit snacks to share with the students and teachers, which were a huge success. I didn't realize that fruit snacks are not available in Australia (which is just wrong), which means that I was bringing a real novelty. It was lovely watching the children (and the adults) eating the fruit snacks with real appreciation!
We spent three days at my other small school, which is coming along, despite some challenges. Unfortunately, the principal got quite sick while we were there, which meant that we weren't really able to work in the school in the same way we typically would. However, we were able to provide needed support and, thankfully, the principal is now feeling much better.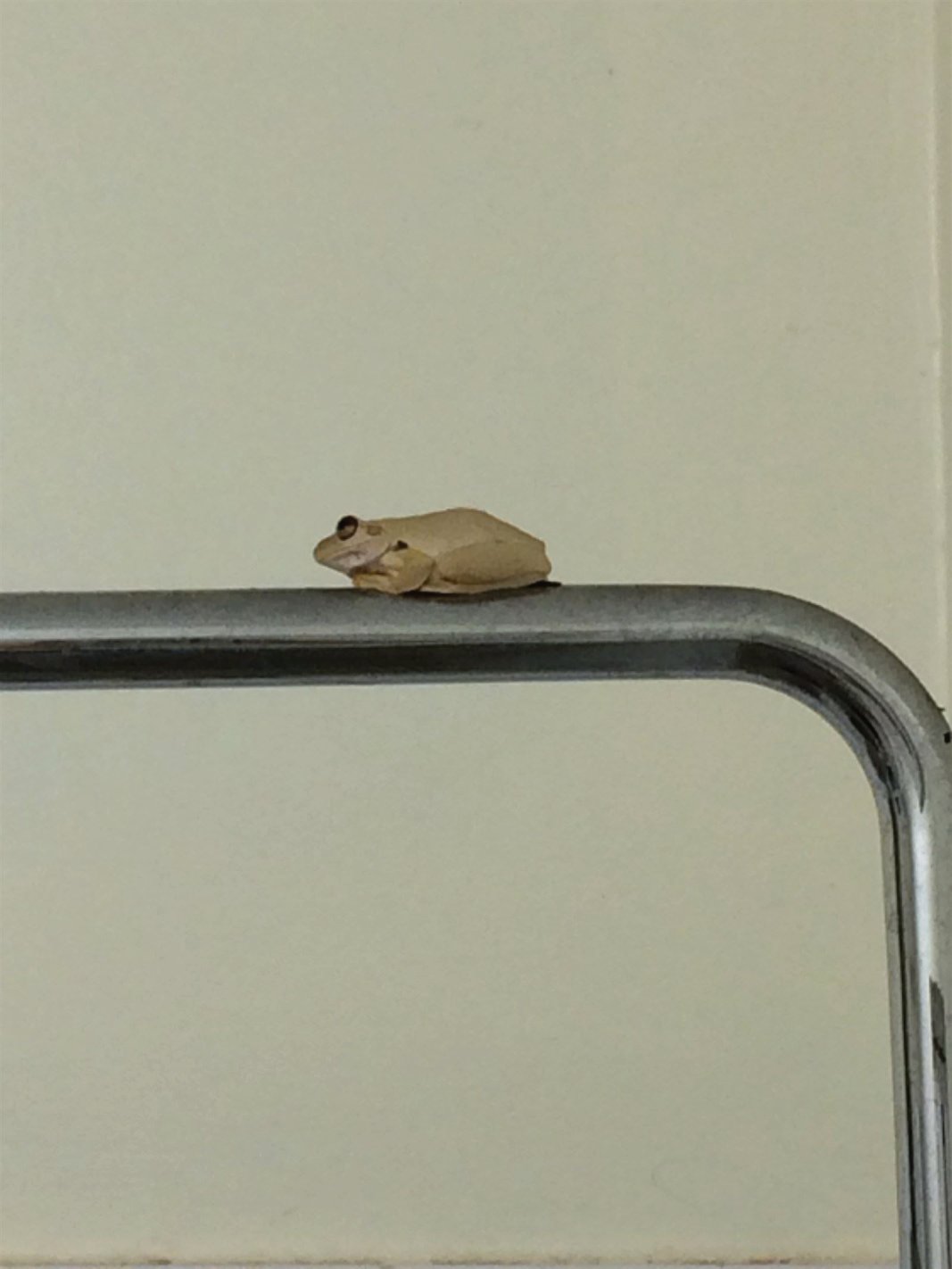 On Friday I awoke early to shower and prepare for a morning charter. I turned on the water in the shower and looked up and noticed that I had company in the shower with me. Luckily, he didn't seem too keen on getting to know me better, so we both just kept an eye on each other as I showered and then left him to enjoy the rest of his day.
We were dropped off at the airstrip at 7:45. When the plane hadn't arrived by 8:30 we phoned Darwin to see what was going on. The plane was stranded in Darwin because of inclement weather. We ended up waiting at the airstrip, fighting off incredibly aggressive flies, until 11:15. We were able to get some work done, but it would have been much nicer to have spent that time at the school.
Yesterday I had a lovely day here in Darwin. I went to a local market, where I bought some comfy cotton pants, a skirt, a couple of gifts, and some delicious fudge!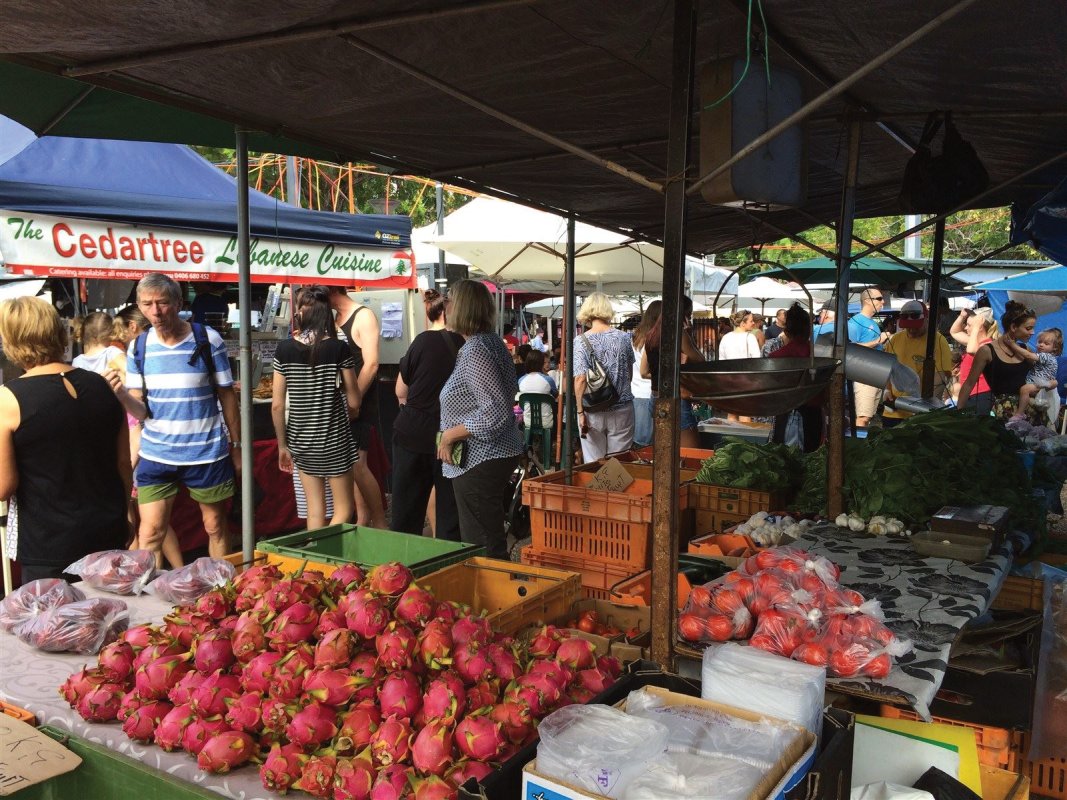 After the trip to the market we had breakfast at a great little cafe, which was absolutely packed (we had to wait 40 minutes for a table). The food was excellent, and the decor was really cool. They had plants growing in water-filled mason jars, which were hung from the ceiling with rope.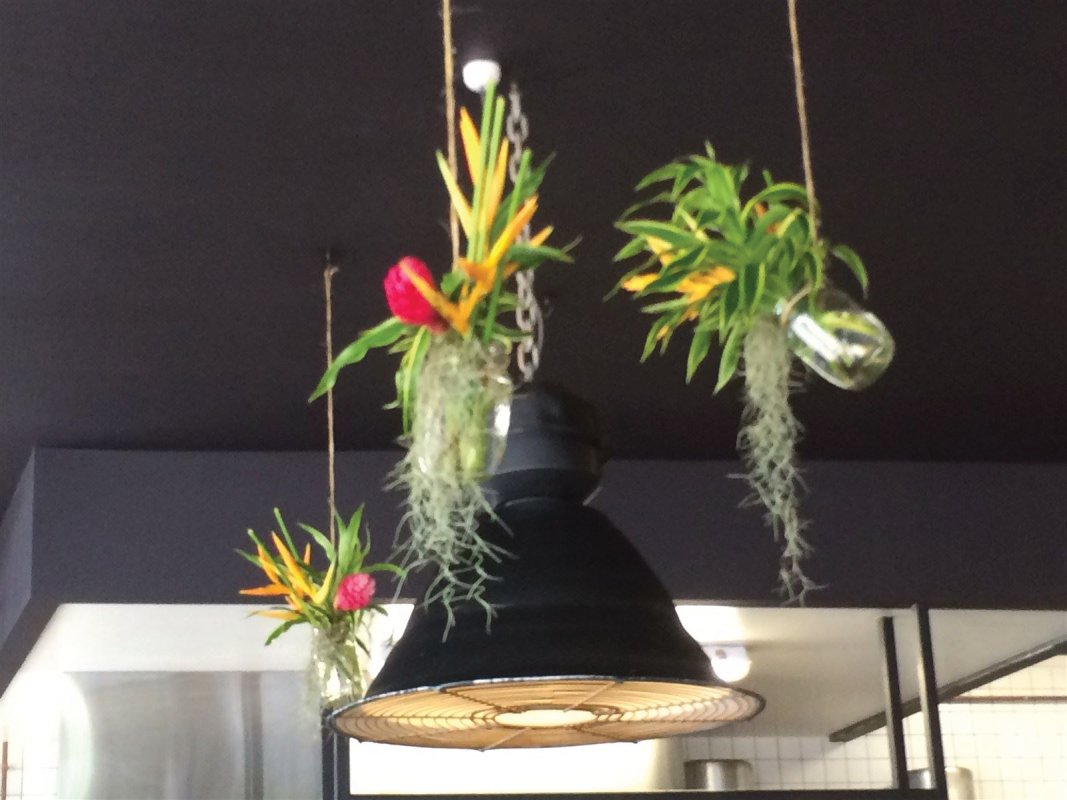 Tomorrow I'm flying back to my smallest, most remote school for a day, then flying to my biggest school for the next three days. I'm excited to check on the students at my biggest school as their data show that they are making really good progress. I have something extra special to look forward to at the end of the week as I will be spending a little over 24 hours with my cousin in Sydney, before flying back to the US. It will be really nice to spend a little time in Sydney, but even nicer to spend some time with family.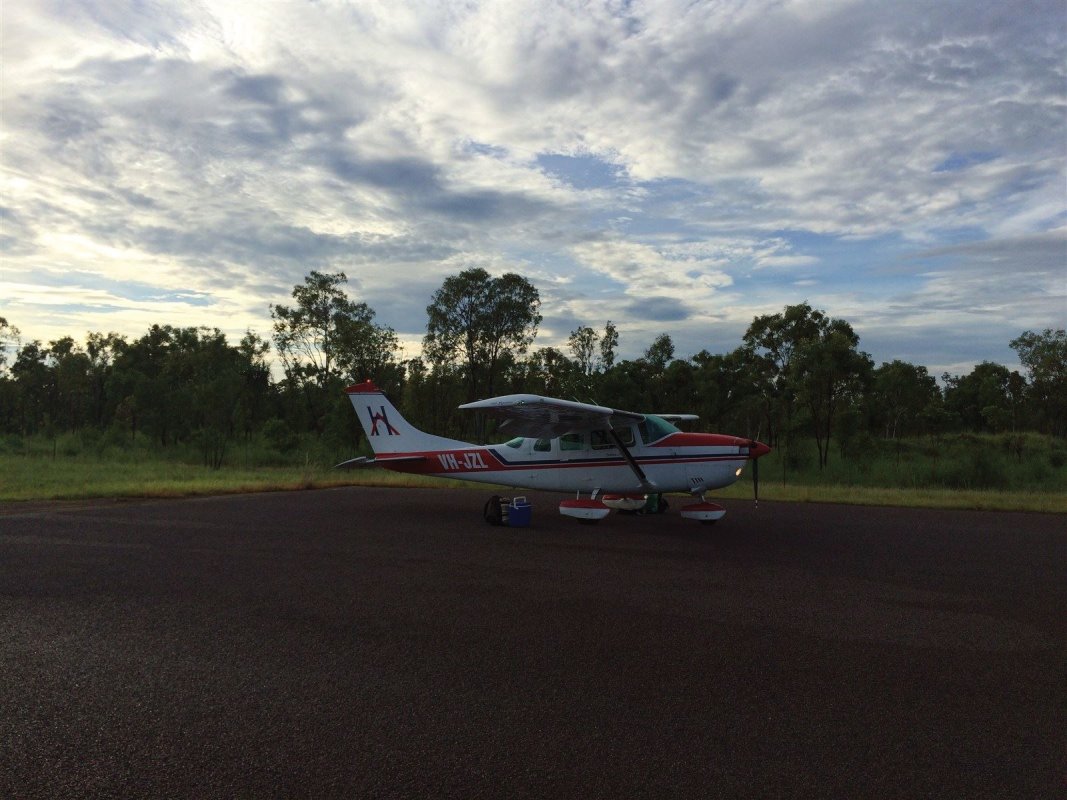 Well, I'm in Darwin for the night, after flying on a single engine plane in and out of a very small town in the Australian bush. I've spent two days there in the school, flying back each evening to a larger town (large, as in, over 100 residents). I hardly slept the night before my first flight, but I soon found that I'm not frightened and, in fact, the views are amazing!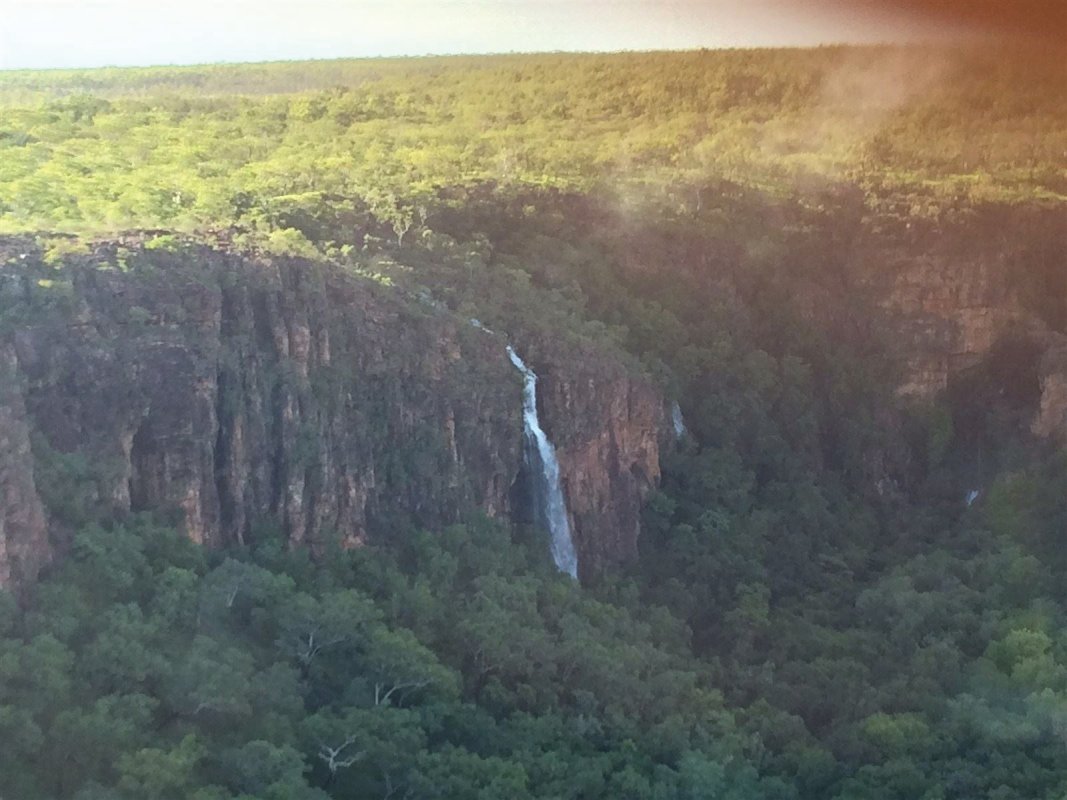 My new school is small (around 25 students, K-7th grade) and in a community sheltered by an amazing escarpment, with picturesque waterfalls and rough-hewn walls. The town is made up of one extended family, which causes some problems with the students at school who bring their arguments and disagreements with them.
The students at this school speak English quite well (in fact, they are very adept at producing some very common English swear words), and their literacy skills are a little bit higher than what I experienced last week. However, their behavior is unbelievable. They kick, hit, bite, throw things at each other, scream, yell, and call each other names. They do not hesitate in the least if there is an adult around (a kindergarten student actually hit the substitute teacher this afternoon). Getting them to sit, focus, and work is exhausting!
Luckily, this community has been blessed with an amazing principal, who could be working at Stanford University, but who has, instead, chosen to spend the last years before retirement in making a difference in these children's lives. She has taught in Australia, Hong Kong, the UK, and the US. She is Montessori trained and is open to trying new techniques to help the students learn. She and her husband, a retired chemist, live in a small flat attached to the school. She has only been there six months, but her influence is already being felt. She expects a lot out of the students, and, for the most part, they do what she asks. I'm enjoying working with her immensely; although she has such a wealth of experience, she is still incredibly humble and willing to learn and try new things.

Tomorrow morning I'm back in my charter plan and off to my little town to spend another day supporting the students and educators there. However, tonight I'm enjoying a comfy hotel room, having thoroughly appreciated a nice salad and glass of wine, while waiting for all my clothing to run through the laundry facilities in the hotel. It's amazing how little things take on so much more meaning when one experiences live with so much less!
As the Aussies say, "Cheers and G'day!"
Buffalo and horses on the way out of town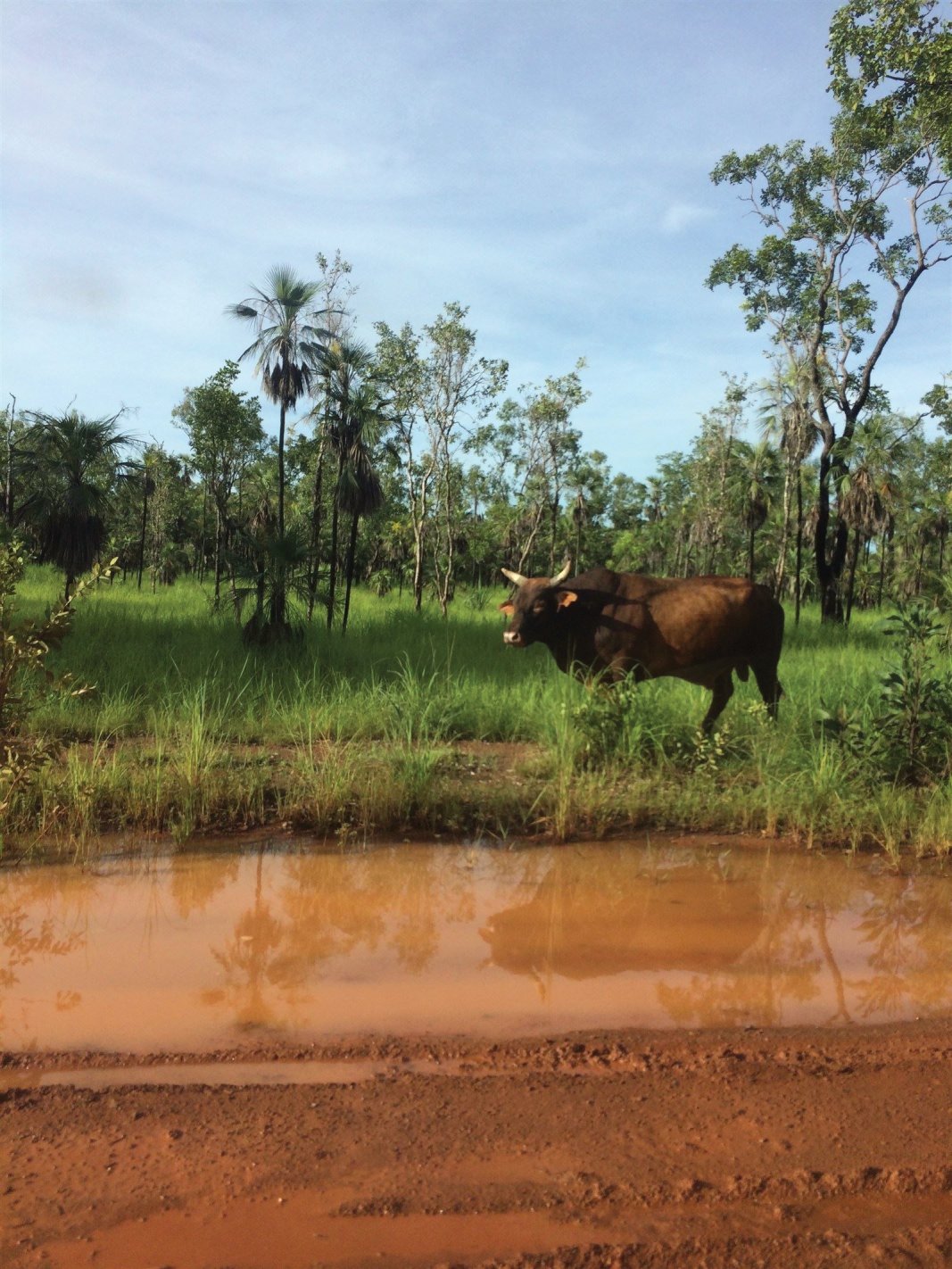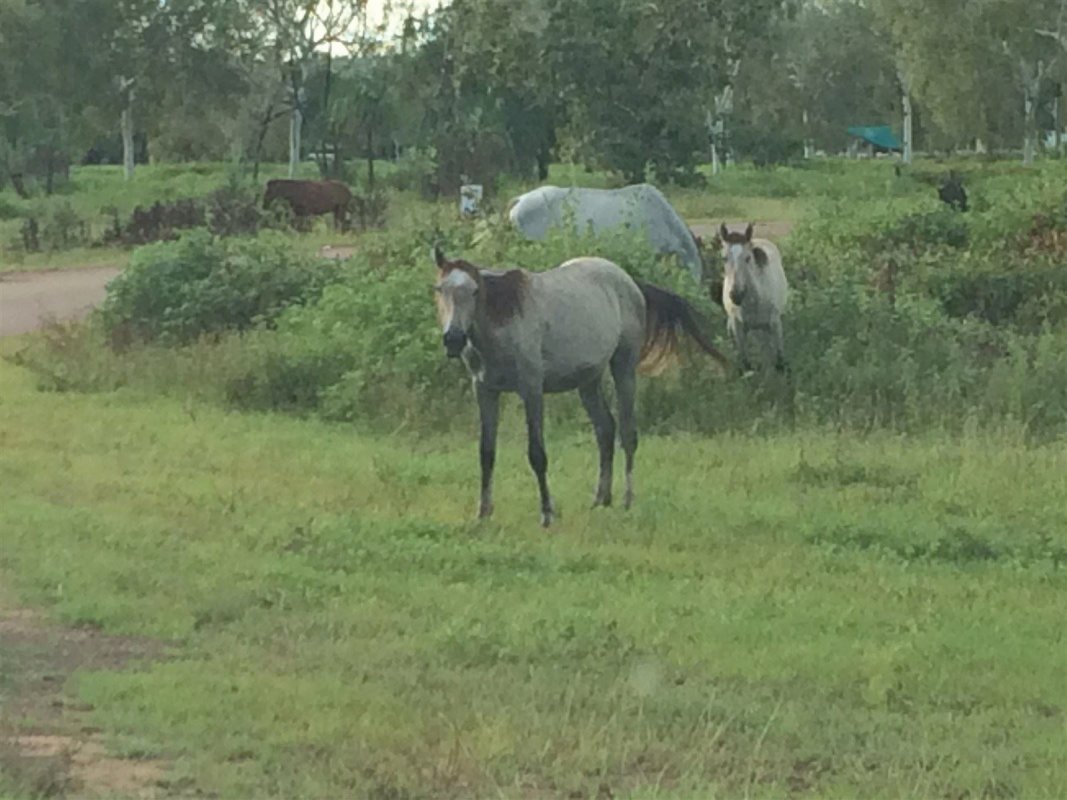 The school and school children on the approach to the airstrip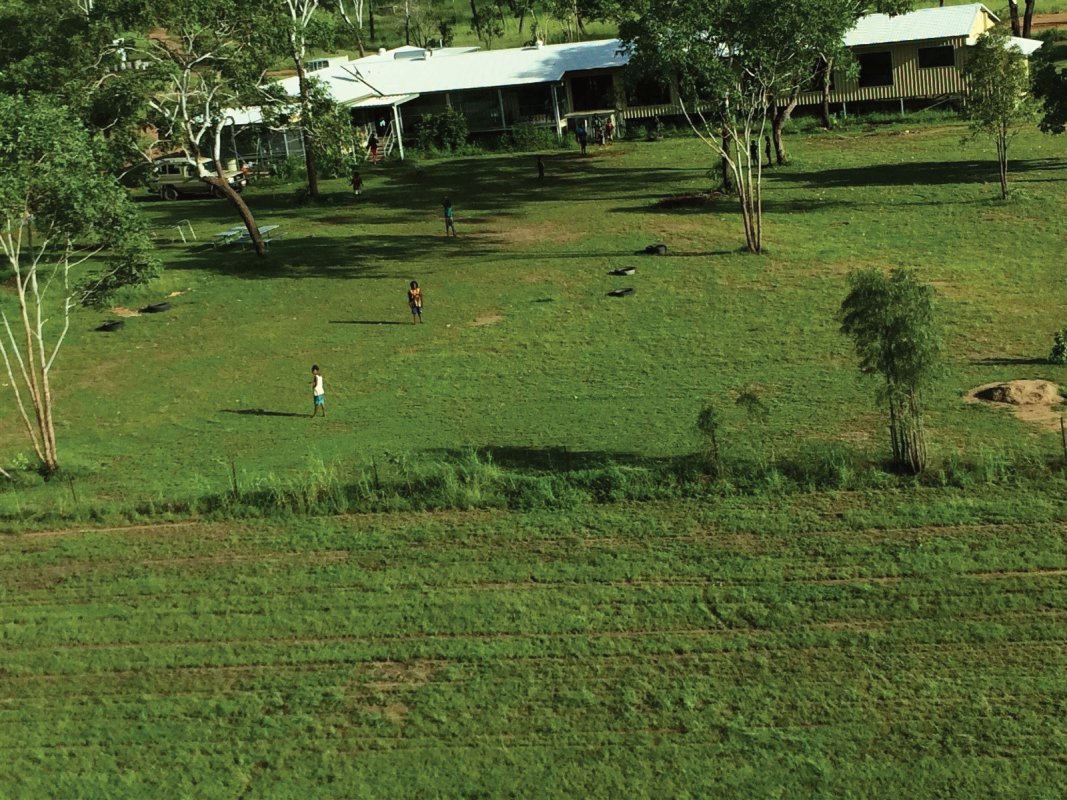 I'm rounding out my first week at my biggest school (approximately 125 students, preschool through grade 10) and so I thought I'd take a few moments to sum up my experiences here.
New Friends
On Saturday night I had a terrific time at a potluck featuring Australian dishes. Everyone brought something to share and we had some really terrific tucker (aka food). There was chicken parma, Australian lamb, quiche, coleslaw, Australian meatballs, cheesymite rolls (cheese and Vegemite on homemade Australian bread), berry and apple crisp, anzac biscuits, and pavlova (I brought cheesy potatoes - kind of a French/American thing). It was really nice relaxing and getting to know the teachers and their spouses away from school.
On Sunday afternoon I was to one of the teacher's houses for tea (I'll call her Joanie), and Sunday evening I was invited, along with Joanie, to another teacher's house for dinner (I'll call her Martha). Joanie borrowed the "ute" (aka: utility vehicle) from the principal for the short drive to Martha's house. I wondered why we would need the ute when Martha's house is just down the street and around the corner. However, when we almost got run down by a spooked wild horse being chased by dogs, I understood why we might not want to walk outside after dark in the Australian bush. First of all, it's dark! I mean, it's completely black outside - which is, of itself, quite scary. Even more importantly, Joanie shared with me a short list of the kind of creatures you might run into if you decide to take a walk in the Australian bush after dark (even if you walk on the road in the town):
Cane Toad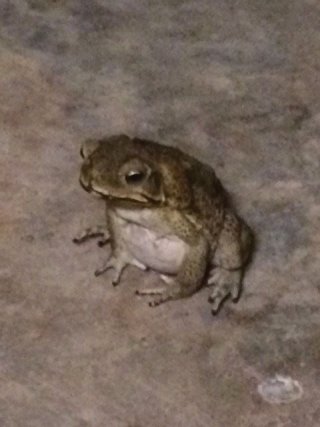 snakes

crocodiles 
wild horses
dogs
bats
buffalo
bulls
cane toads
pigs
emus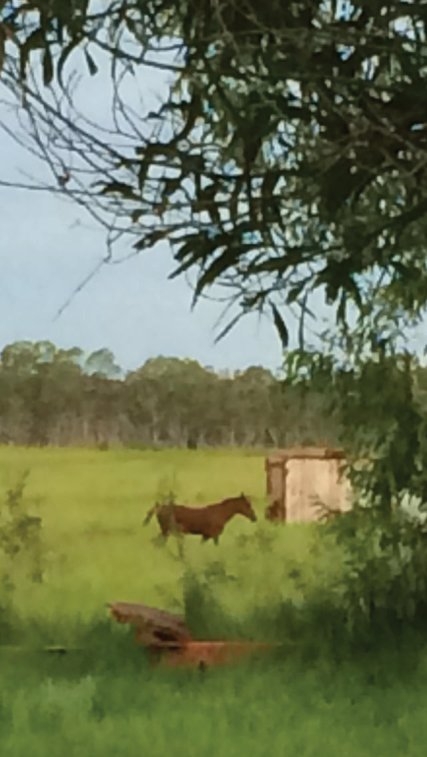 Wild Horse
Solid Gold
Here are a few funny stories before I sign off for the day. On Friday I was teaching a lesson which had me demonstrating smiling. At the end of the lesson, one of the girls came to me, pointed to my mouth and said, "What that? Open you mouth." I opened my mouth and her eyes got big, "What that? You have gold in you mouth?" She was mesmerized by my gold and silver fillings. She quickly called the other children over and my dental work was examined very closely. She then asked me if she could touch my fillings, which I explained was unwise because she would get my germs. When she asked how I got the metal in my mouth, I answered by saying I got it because I didn't do a good job of brushing my teeth as a girl. In hindsight, I'm not sure that was the right answer to give. I hope she doesn't stop brushing her teeth in the hope that she'll discover gold one day!
At the end of the day Friday I was walking to the teacher's lounge when a boy around 10 asked me if I was from welfare. He even checked my name tag to check it out. I assured him I was here to help the teachers, which he found acceptable.
In one of the younger groups, students are asked to identify a picture of a shoe. The children, unfamiliar with shoes, have begun to call them "shoots." It appears to be a cross between shoe and boots, which the are familiar with because boots are worn by men who muster the cattle.

Finally, one of the most disturbing things I've learned is how hungry these children are. When I was at Joanie's on Sunday three of the children knocked on her door. They explained that their mother was hungry and wanted meat. They had brought a bucket and had walked through an intense thunder storm to see if they could get something to eat. The government checks had arrived on Thursday, which means that the family had used all the money in under three days, leaving the children with no food until the next check in two weeks. In fact, it's not uncommon to find mothers with their toddlers at the school eating breakfast and lunch because there is nothing to eat at home.
Once again I'm humbled and impressed by the educators who choose to serve this needy population. What amazing work they are doing!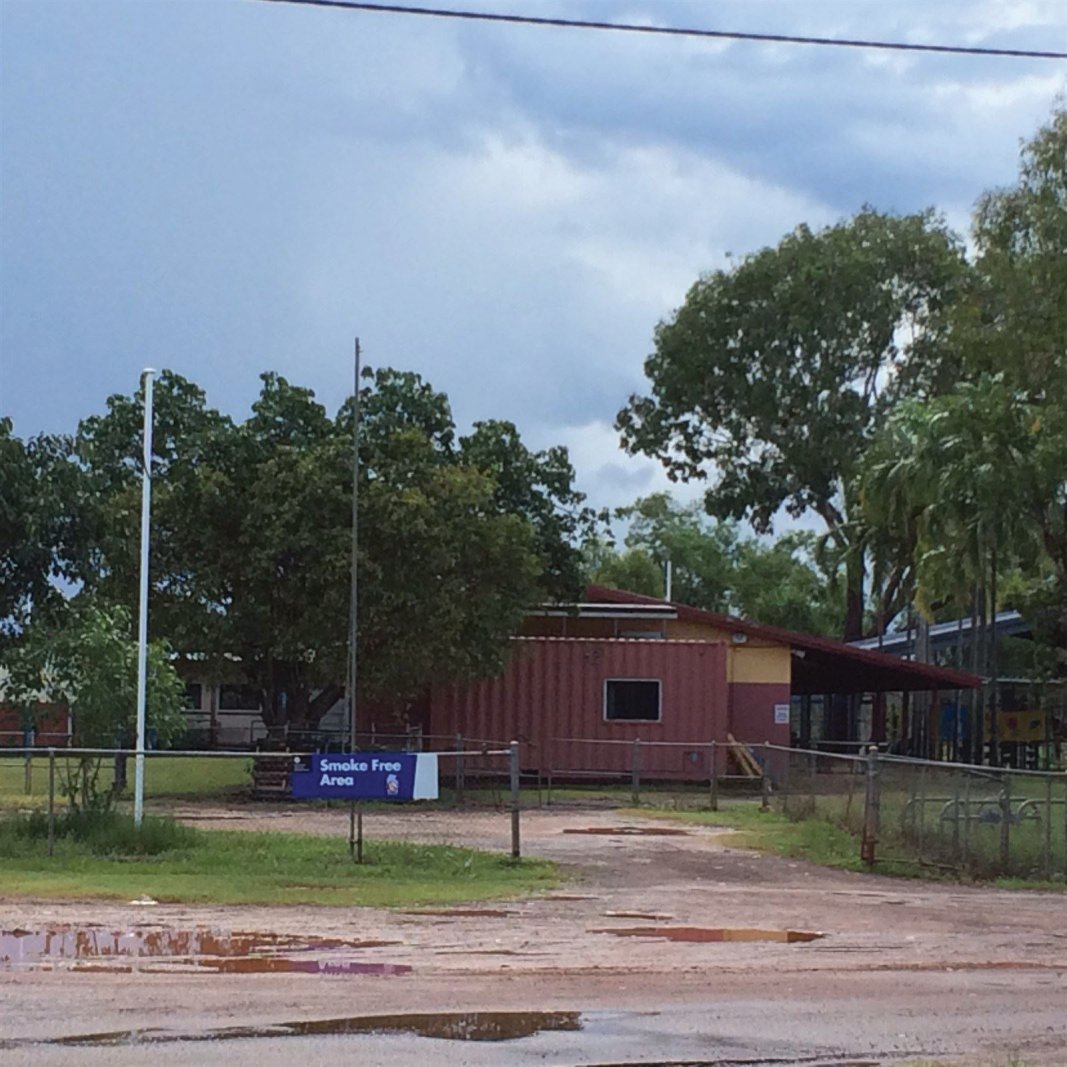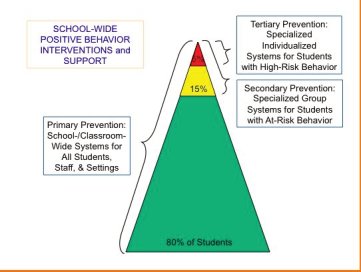 School-wide Positive Behavior Interventions and Supports (SWPBIS) is a systems change effort that focuses on improving school climate through the implementation of evidence-based practices in the area of behavior.
SWPBIS is characterized by six defining characteristics:
It is preventive in nature
It is designed to have an instructional orientation
There is a focus on cultural responsiveness
Behavior is viewed as function-based
There is a systems implementation focus
It is evidence-based (and evidence-based practices are used)


When SWPBIS is implemented in a school, with fidelity, one should be able to observe the following features:
over 80% of the student can state the expectations and give behavioral examples because the expectations have been taught, practiced, and acknowledged
positive adult-to-student interactions exceed negative interactions
the foundation for addressing problem behavior is function-based
data- and team-based action planning and implementation are apparent
there is active participation by site and district administrators
all students are provided with a full continuum of behavior support (not just students in special education)

Schools and districts that are interested in implementing SWPBIS need to understand that efforts to change the culture of a school will require true commitment and time. Sending teachers to a one-day inservice on behavior, or having a consultant come in and do a one-day training on behavior, will not result in sustainable change. It is important to understand implementation science and use this knowledge in designing professional learning experiences that will result in true systems change.
When training schools in SWPBIS, we focus on the following eight implementation steps:
Development of an implementation team
Development of a brief, positively stated, statement of behavioral purpose
Identification of 3-5 positive school-wide behavioral expectations
Development of procedures for teaching the school-wide expectations
Development of procedures for teaching classroom-wide expectations
Development of a continuum of procedures for encouraging and strengthening student use of school-wide behavioral expectations
Development of a continuum of procedures for discouraging student behavioral violations
Development of data-based procedures for monitoring the implementation of SWPBIS



Over the summer I plan on spending more time blogging on each of these eight steps.




If you are interested in receiving training in PBIS for your school or district, please contact me at

[email protected]

You can get more information about PBIS at the following sites:

www.pbis.org

www.pbiscaltac.org




Next week I'm going to be working with the California Technical Assistance Center on PBIS to support a group of PBIS trainers in San Bernardino County. This dynamic and dedicated group of individuals are committed to bringing PBIS training to schools throughout San Bernardino County. I'm excited and honored to work with the group and thrilled to see more schools implementing PBIS. As the 2013-14 school year winds down, I thought I'd share my thoughts on why schools should implement PBIS. So, here are my Top Ten Reasons Why Schools Should Implement PBIS:

10. All kids deserve to attend a school at which they feel accepted and appreciated.

9. Discipline systems based on punishment do not change behavior, they simply make kids more determined not to get caught.

8. Discipline systems that focus on punishment actually reinforce negative behaviors because the students have to engage in the behavior before anything happens to them. Thus, any social reinforcement they will receive for the behavior has already occurred prior to the punishment. It's a classic case of "too little too late."


7. Students who behave appropriately should be recognized for their positive behavior.

6. For some students, the only positive environment in their lives is the school.

5. Relationships are the most powerful weapon we have in the war against bullying, suicide, drop-outs, etc. Children need to feel connected to at least one adult, and often that one adult is someone at the school.

4. A multi-tiered system of supports (MTSS) is the most efficient and effective way of preventing problems - behaviorally, socially, and academically.

3. Teachers and other staff members who work at PBIS schools report less stress and more enjoyment in coming to work.

2. It isn't that difficult to make school fun, and the rewards are immeasurable.


AND THE NUMBER 1 REASON IS:

1. It's just the right thing to do! Really!





Exclusionary practices such as suspension and expulsion do not change behavior and serve to further alienate students who already feel as though they are not part of the system. We need to spend our time, energy, and resources developing positive school cultures that encourage pro-social behavior, discourage anti-social behavior, and reduce bullying, truancy, and drop-outs. 




To learn more about PBIS, and find out how you can receive training in PBIS, check out the following websites:




Please feel free to contact me if you'd like more information about PBIS, or if you'd like to learn more about how your school can become a PBIS school.




0

/