Innovative Educational Solutions
Building the capacity of educators to serve ALL students.
Well, it's back to school time! That is, it's back to school time here in Australia. Today was the first day of school in Nganmarriyanga, and I learned a lot about what it means to be an educator in this remote Australian community.
I walked the short distance to school this morning, artfully dodging huge piles of horse poop that was deposited throughout the night by the Brumbies (feral horses). In fact, I wasn't surprised to see the horse droppings because I had lost quite a bit of sleep last night due to the galloping and whinnying that went on all night. The locals, and the educators who serve them, seem quite undisturbed by the wild horses. I think they're fascinating!
I got to school as children were finishing their breakfasts. Unlike American schools, children were eating their meals out of glass bowls, which were then washed by the canteen workers. I was invited into the transition classroom (equivalent to our kindergarten program, but all day). Children were slowly filing in, many with parents in tow. The first activity of the day was toothbrush distribution and tooth brushing. As each student arrived he or she was given a toothbrush, which was loaded with a dollop of toothpaste. The children went outside to the water fountains to brush their teeth and rinse their mouths. Following tooth-brushing was nose blowing and ear cleaning (using rolled up kleenex). This activity was accompanied by a song, which was sung by many of the children, as well as the teacher. Hygiene dealt with, we moved on to exercise, story reading and activities on the computers and the smart board. Throughout the morning parents came and went, sitting on the floor near their children.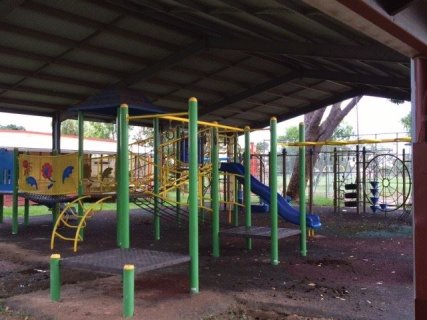 Children spent their recess time running and playing on the playground equipment found in the main part of the school grounds. The playground equipment is relatively new, and has safety ground-cover installed.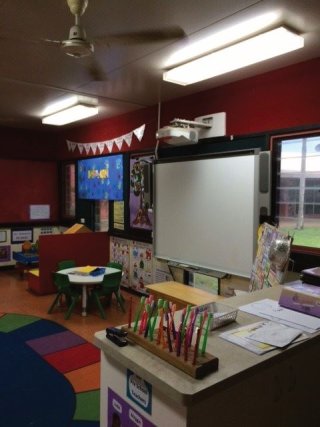 After a morning fruit break and recess, I decided to spend some time in the preschool classroom. It's a very full classroom, and several parents were in attendance. The children sang songs and the teacher spoke in both English and the local dialect. She also has an assistant who is fluent in the local dialect and who translated when needed.
After singing, we went to the library to pick out books and I got the opportunity to read with some of the students. We returned to the classroom and lunch (beef stew and bread) was served in glass bowls outside.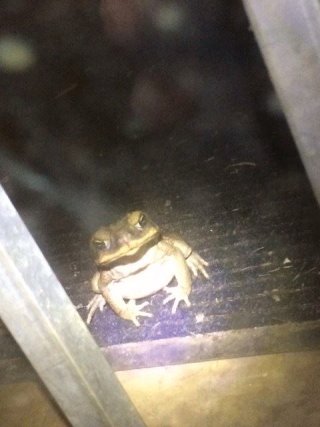 During lunch we caught a cane toad, a rather horrid looking beast that is predominant across Australia, despite being a rather recent addition to the ecosystem on the continent. Cane toads are pests and they procreate at an incredible rate. Once caught, they are put in a plastic trash bag and put in the freezer, which is (from what I understand) a very humane way of getting rid of them permanently.
After lunch the children went home and I spent time in a couple of other classrooms. After school I was working with some of the teachers when a group of students came and reported a snake in the preschool toilet. I guess that was the third snake seen on campus today: there was a large one seen in the main school yard, a smaller one seen on a pathway, and the unlucky fellow in the preschool toilet. Oh...and a fourth one...a baby one brought to us by one of the students.
Besides snakes, there are loads of dogs on campus. They are peaceful, quiet, and just hoping for a bite to eat. There were probably a dozen or so dogs wandering around the school grounds, which seemed very odd to me. Another interesting thing I discovered is that none of the students wear shoes to school, and neither do most of their parents. The children run through the playground and splash through the puddles in their bare feet (which was a little alarming to me, given the snake situation).

As I was packing up my things to go, I recognized a familiar tune. I exited the teacher's work room and found a small group of girls singing the song, "Let it Go," from the Disney movie Frozen. In some ways so very different...in other ways so very similar.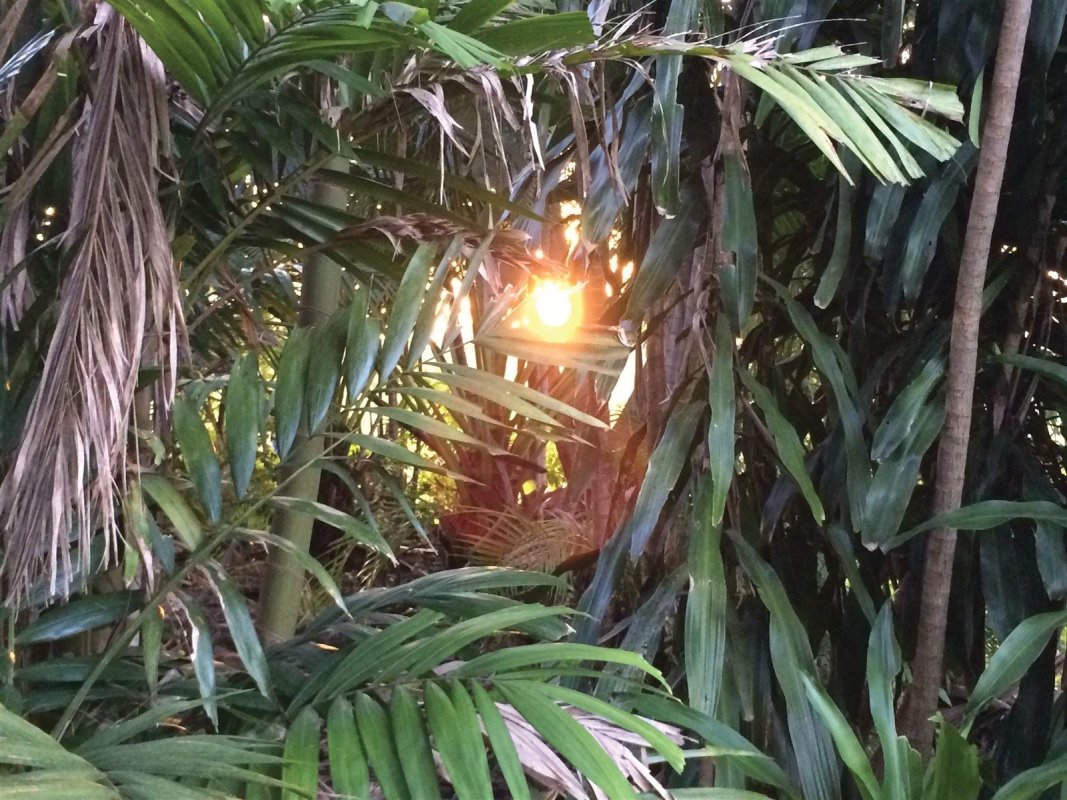 I thought I'd take a chance to jot down my thoughts throughout this amazing experience of working in Australian remote community schools. I was given the opportunity to work in these schools through the National Institute for Direct Instruction (
NIFDI)
. When I first thought about working in Australia, I pictured working in a somewhat populated area, investigating restaurants in the evening, and staying in Australian hotels. As I learned more about what I'd be doing, I soon realized that the experience would be quite different. So...here's a short recap of what has happened so far.
About 90 days ago I received an email with the names of my remote schools - Nganmarriyanga, Peppimenarti, and Nganambala. I couldn't even pronounce the names and I had no idea where they could possibly be. Thank goodness for Google Earth. I was able to find the first two and, with help from my son Adrien, I was finally able to find Nganambala. I could tell from the map that they are, indeed, remote. Shortly after, I discovered that during the rainy season it is impossible to drive from site to site. As a result, I would need to take a charter flight to travel from Darwin to the first school, in between schools, and then back to Darwin. This was not good news for me. I have said many times in my life that I would never fly in a small plane. Well, you know what they say - "never say never."
Just a note about seasons in northern Australia. There aren't four seasons here - just two. There is the rainy season (which is technically summer - it happens around winter in the US) and the dry season (which is during summer in the US). During the rainy season it is incredibly green, and incredibly muddy. The roads get impassable for several months. My first trip was scheduled during the rainy season (the first of seven in 2015).
Preparation for the trip was interesting. There are limitations regarding weight of luggage on charter flights, so I needed to make sure that my luggage met the criteria. Also, there was no surety that I'd have access to a store in the communities in which I was working, so I needed to bring some food to hold me over in case I couldn't purchase anything. To add to the experience, many people who had never visited the Australian outback had lots of advice. I did my best to pack what I thought was necessary.
My flight to Sydney left at 10:20 pm from LAX. I traveled on an A380, which was wonderful. I had a terrific flight and slept about eight hours. Landing in Sydney was interesting. We had to go through border patrol, get our suitcases, go through customs, check our bags, go through security, then take a bus to a different terminal for our domestic flight. The process took over two hours and was slightly exhausting. However, the flight to Darwin was really good - I had an entire row to myself and I was hypnotized by the lovely geography of the Australian continent.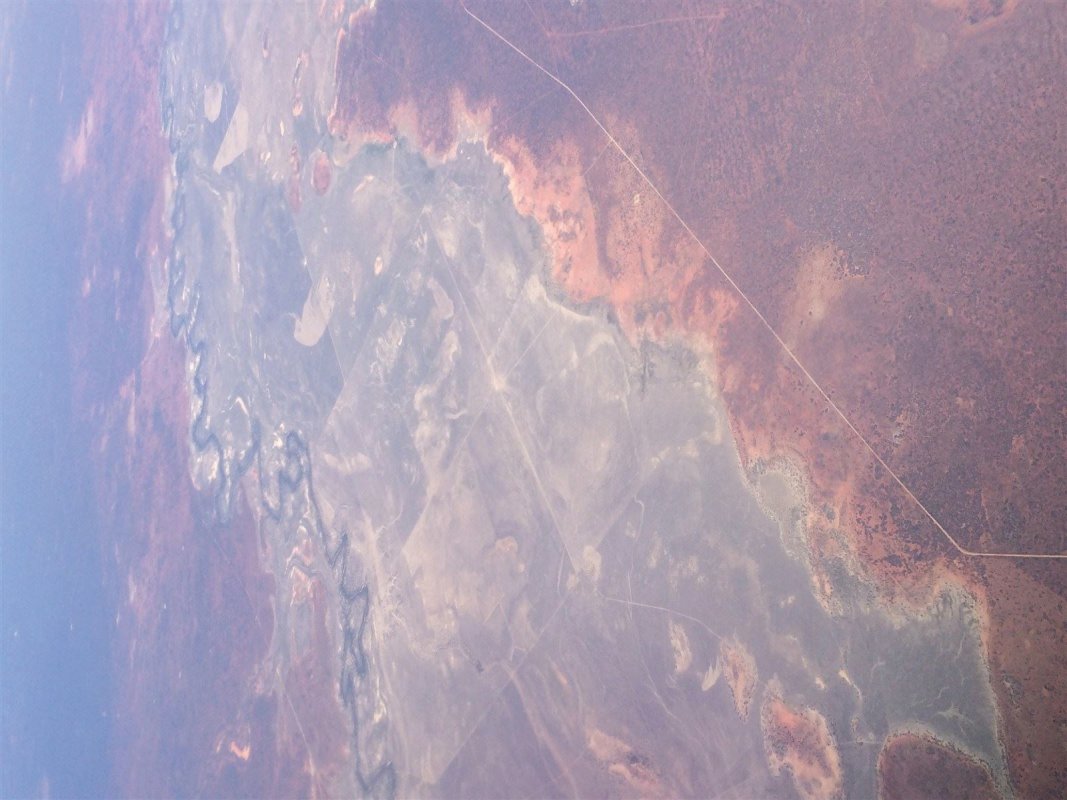 I stayed one night in Darwin. I shopped at a local mall, which seemed like any mall that you could find in America. I did a little shopping in KMart, and found a few things in Woolworths. All in all, I was disappointed that it didn't seem more different - more Australian.
The next morning I was driven to the charter company to catch my flight to Nganmarriyanga. We were shown to a Cessna, with room for six passengers. I was assigned the front seat, right next to the pilot. At first we had a little bit of a problem getting the left propeller to start, but it eventually started...right at the same time that the sky opened up and began a torrential downpour! In fact, it was raining so hard that the pilot had to open his side window and stick his head out in order to see the runway! I prayed a lot as we taxied and then were airborne. Quickly we flew out of the storm and I became completely mesmerized by the scenery.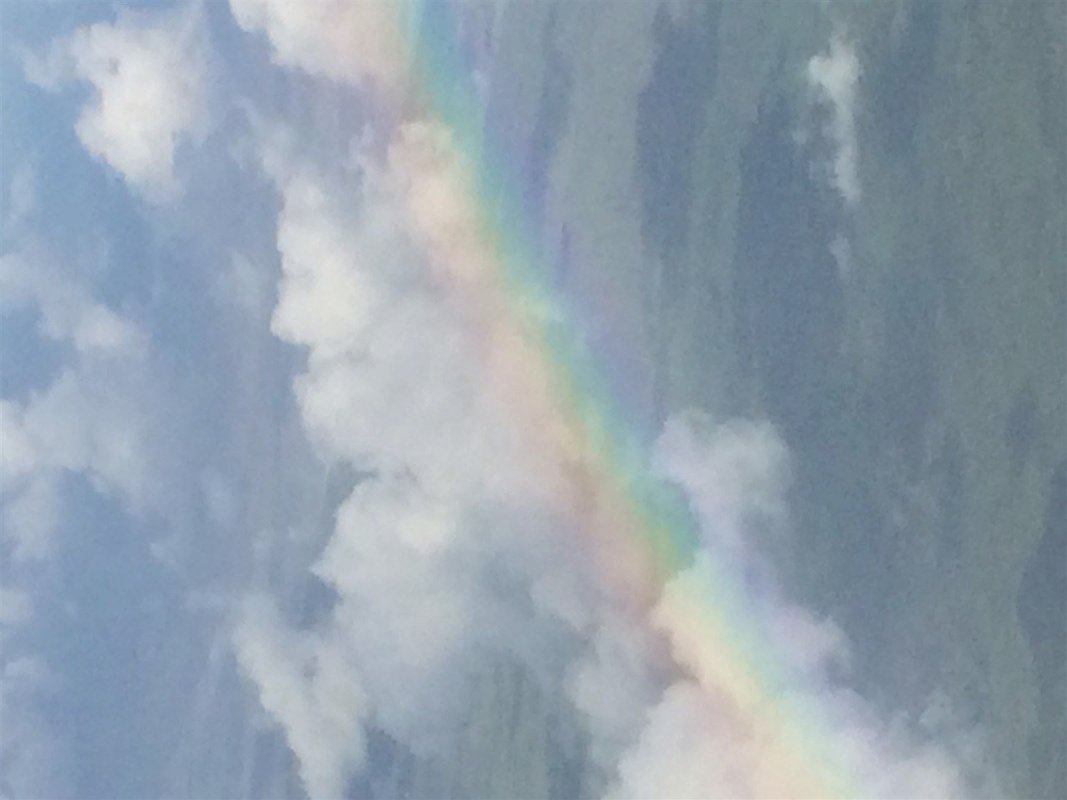 We flew along the coastline and then took a turn inland. We were able to see Nganmarriyanga and Peppimenarti from the plane. 
The landing was incredibly smooth and we disembarked and unloaded our stuff. Wow - was it hot!! In fact, it was unbelievably hot and humid. I was covered with sweat in exactly 30 seconds. The principal's aunt was there to meet us and we piled the luggage and ourselves into a classic SUV and hit the road. Or, should I say, hit the mud. The dirt roads were a huge mess of terracotta colored mud. I was shown the school and the store, then shown to my temporary quarters (10 days).
I'm incredibly fortunate in that I'm staying in a house that belongs to a couple who are on maternity leave. It is comfortable and right next to the principal's home, and just down the road from the school and the store. I went to the store yesterday with one of the new teachers and was surprised to find a variety of items for sale, including a drum set and a stereo system (on sale for $1500!!). I purchased a few items and returned "home." 
Last night I had dinner with the principal and his lovely family. He has a wife who works at the school and who is expecting their third child. Her parents are visiting and I had a wonderful dinner with excellent conversation. Their children are lovely and I feel so blessed to have this opportunity to meet this special family. They are doing incredible work here and are dedicated to making a difference for the indigenous people in this area.
Today is a quiet day; I'm prepping for the first day of school, which is tomorrow! Thanks to the fact I have internet coverage, I've been able to FaceTime and Skype with my family and I feel like I'm not too far away.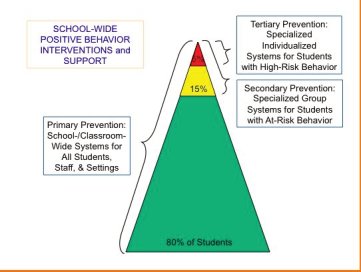 School-wide Positive Behavior Interventions and Supports (SWPBIS) is a systems change effort that focuses on improving school climate through the implementation of evidence-based practices in the area of behavior.
SWPBIS is characterized by six defining characteristics:
It is preventive in nature
It is designed to have an instructional orientation
There is a focus on cultural responsiveness
Behavior is viewed as function-based
There is a systems implementation focus
It is evidence-based (and evidence-based practices are used)


When SWPBIS is implemented in a school, with fidelity, one should be able to observe the following features:
over 80% of the student can state the expectations and give behavioral examples because the expectations have been taught, practiced, and acknowledged
positive adult-to-student interactions exceed negative interactions
the foundation for addressing problem behavior is function-based
data- and team-based action planning and implementation are apparent
there is active participation by site and district administrators
all students are provided with a full continuum of behavior support (not just students in special education)

Schools and districts that are interested in implementing SWPBIS need to understand that efforts to change the culture of a school will require true commitment and time. Sending teachers to a one-day inservice on behavior, or having a consultant come in and do a one-day training on behavior, will not result in sustainable change. It is important to understand implementation science and use this knowledge in designing professional learning experiences that will result in true systems change.
When training schools in SWPBIS, we focus on the following eight implementation steps:
Development of an implementation team
Development of a brief, positively stated, statement of behavioral purpose
Identification of 3-5 positive school-wide behavioral expectations
Development of procedures for teaching the school-wide expectations
Development of procedures for teaching classroom-wide expectations
Development of a continuum of procedures for encouraging and strengthening student use of school-wide behavioral expectations
Development of a continuum of procedures for discouraging student behavioral violations
Development of data-based procedures for monitoring the implementation of SWPBIS
Over the summer I plan on spending more time blogging on each of these eight steps.
If you are interested in receiving training in PBIS for your school or district, please contact me at
[email protected]
You can get more information about PBIS at the following sites:
www.pbis.org
www.pbiscaltac.org
"My child was not having any success as she searched for an important paper that needed to be signed by me and submitted to the school office.  I opened her backpack only to find that it looked like a bomb went off inside!  There was so much stuff in there, including paperwork that should have been shared with parents at home as well as assignments that should have been turned in at school. Comments from some of her teachers made sense now—'She isn't turning in any homework'.  I know she is doing the work at home, because she shows it to me after she finishes.  Oh, what is a parent/teacher/educational professional to do?" 

If this sounds familiar, and you have a child or student who has a disorganized backpack or school locker, who doesn't take the necessary materials between home/school/classroom, who completes homework but doesn't turn it in, has difficulty planning for and keeping track of long-term assignments so that work is finished on time, you are going to want to know about the Master Binder System strategy!
The Master Binder System can be used with students of all ages and can be adapted to meet the needs of the student and the educational environment.
If you are interested in receiving a copy of The Master Binder System, please sign our Guest Book and send us your email address so that we can send you a copy of the strategy. Simply type "Master Binder System" in the message area and we will send you a PDF of the strategy within a week. We promise that your email address is safe and will not be shared with any other person or company. Nor will it be posted on our website.
Check out this email I received from my co-author, Carol Burmeister:
Hi Dr. Sheri,
I wanted to share a personal experience I had with my grandson last week.  I was helping him with his homework, which included preparing for a presentation on Ronald Reagan that he was expected to share in school on Friday.  He did research on his topic online and synthesized the information so that he could develop a presentation that included his findings and supporting evidence.  He made strategic use of digital media and visual displays to enhance understanding of his material.  He practiced his presentation skills at home before the big day.  On the day of the presentation, he impressed his teacher and his classmates who confirmed that he did a great job sharing his knowledge on the topic.  This experience with him made me thankful for the work that we have done on Project Mapping from FLIPP the Switch:  Powerful Strategies to Strengthen Executive Function Skills—that particular strategy definitely came in handy!  Oh—by the way—did I mention that my grandson is in kindergarten?
Carol's grandson is fortunate in that he has parents and grandparents who can help him develop a project that meets the requirements of the Common Core State Standards. However, for many individuals, planning a project to ensure it will be completed in time with all required components intact, can be extremely stressful. For someone with executive function deficits, the entire process can be totally overwhelming. That's where Project Mapping can be an invaluable tool in supporting the individual with EF deficits to visualize the steps needed to complete the project. This tool can be used by parents and educators and can be taught to students so that they can use it independently in the future.

Carol and I would like to make this super-effective planning tool available to readers of this blog for
free
during the month of February. If you would like to receive a copy of
Project Mapping
for free, please sign in on our
Guest Book
and type in "Project Mapping" in the comment section. Your free copy of
Project Mapping
will be sent out within the next week. If you know of anyone else who could benefit from this free resource, please have them sign into our
Guest Book
and we will gladly send them a free copy as well.
Have a great week and check back next week for another free resource for supporting individuals with executive function challenges.

When I think of Executive Function (EF) skills, I picture those movies in which a high-powered executive is followed around by an executive assistant who takes care of all the details. "Ma'am, your 9:00 is waiting in room B. You're conference call will begin at 9:45 and I'll make sure everyone is ready and waiting on the line. Tomorrow is Valentine's Day; I ordered a gift to be delivered to your husband at work and a flower arrangement to be delivered to your mother. I also wrote a thank you note to your mother-in-law for her birthday gift and sent that in the mail." Ahhh....bliss! Who wouldn't want someone taking care of all those pesky details that are so easily overwhelming!
EF skills are a little like that executive assistant in that they help us to get places on time, plan activities and a method to execute them, solve problems, and remain flexible and not overly emotional. Carol Burmeister and I have been writing a book entitled, FLIPP the Switch: Powerful Strategies to Strengthen Executive Function Skills (to be published by Autism Asperger Publishing Company in summer 2014) and we have learned a lot about EF and how EF deficits can affect many aspects of an individual's life. The book features 25 strategies that can be implemented by parents and educators to help individuals with EF deficits to be more productive.

FLIPP is an acronym that stands for Flexibility, Leveled Emotionality, Impulse Control, Planning and Problem Solving.
Next week, we'll be focusing on Project Mapping, a strategy that can support individuals in mapping out a complex project so that all parts are completed in a timely manner, leading to a finished project that is ready to turn in on time. You'll have an opportunity to have a PDF version of the Project Mapping template sent to you for free via email. This is a great opportunity to learn about one of these strategies prior to the release of the book next summer and we know that you will find Project Mapping incredibly useful. We are excited to share it with you and to hear your stories about how you have used the strategy at home and school.
You might also want to check the IES
Resource
page to view a presentation about Supporting Students with Executive Function Deficits.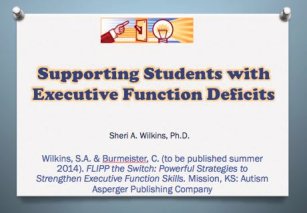 In my last two blogs I've reviewed the first two guiding principles included in the USDE document,

Guiding Principles: A Resource Guide for Improving School Climate and Discipline

(2014). If you haven't had a chance to check out my first two blogs on the first two guiding principles, please do so. Today I'm trying something different (yet again). I've recorded a short video which can be viewed by clicking below. If you are viewing from an educational facility that blocks YouTube, click

HERE

.










Exciting News for February!




During the month of February, Carol Burmeister and I will be collaborating on a series on executive function. Did you know that many students suffer from executive function (EF) deficits? Did you know that poor planning skills, ineffective problem solving skills, a lack of flexibility, poor impulse control, and a tendency toward emotional outbursts can all be symptoms of poor executive functioning? Each week during the month of February, Carol and I will be sharing information about executive function and readers will have the opportunity to download a how-to guide for one evidence-based, highly effective strategy for working with individuals with EF deficits following each blog post. These strategies are ones that will be included in our book, FLIPP the Switch: Powerful Strategies to Strengthen Executive Function Skills, which will be published by AAPC in summer of 2014. However, readers of this blog will not have to wait until next summer to experience the benefit of implementing these strategies. Beginning next Friday, one strategy will be highlighted each week and complete instructions and templates will be made available in PDF format.


I'm trying something new for my blog today. I'm going to focus on the second of the three guiding principles that are included in the USDE resource guide and I've developed a

Prezi

with audio to do so. Please click on the link, press the "play" button on the bottom left of the presentation screen, turn up your speakers, and then let me know how you like the format.

Have a great day!


0

/