Innovative Educational Solutions
Building the capacity of educators to serve ALL students.
| | |
| --- | --- |
| Posted on February 14, 2014 at 1:05 AM | |
When I think of Executive Function (EF) skills, I picture those movies in which a high-powered executive is followed around by an executive assistant who takes care of all the details. "Ma'am, your 9:00 is waiting in room B. You're conference call will begin at 9:45 and I'll make sure everyone is ready and waiting on the line. Tomorrow is Valentine's Day; I ordered a gift to be delivered to your husband at work and a flower arrangement to be delivered to your mother. I also wrote a thank you note to your mother-in-law for her birthday gift and sent that in the mail." Ahhh....bliss! Who wouldn't want someone taking care of all those pesky details that are so easily overwhelming!
EF skills are a little like that executive assistant in that they help us to get places on time, plan activities and a method to execute them, solve problems, and remain flexible and not overly emotional. Carol Burmeister and I have been writing a book entitled, FLIPP the Switch: Powerful Strategies to Strengthen Executive Function Skills (to be published by Autism Asperger Publishing Company in summer 2014) and we have learned a lot about EF and how EF deficits can affect many aspects of an individual's life. The book features 25 strategies that can be implemented by parents and educators to help individuals with EF deficits to be more productive.

FLIPP is an acronym that stands for Flexibility, Leveled Emotionality, Impulse Control, Planning and Problem Solving.
Next week, we'll be focusing on Project Mapping, a strategy that can support individuals in mapping out a complex project so that all parts are completed in a timely manner, leading to a finished project that is ready to turn in on time. You'll have an opportunity to have a PDF version of the Project Mapping template sent to you for free via email. This is a great opportunity to learn about one of these strategies prior to the release of the book next summer and we know that you will find Project Mapping incredibly useful. We are excited to share it with you and to hear your stories about how you have used the strategy at home and school.
You might also want to check the IES
Resource
page to view a presentation about Supporting Students with Executive Function Deficits.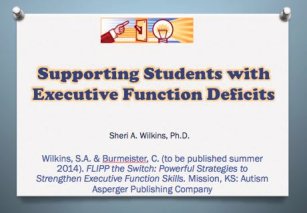 Categories: Autism Spectrum Disorders, Behavior, CCSS, Evidence-based practices, Executive Function

0

/