Shopping Cart
Your Cart is Empty
There was an error with PayPal
Click here to try again
Thank you for your business!
You should be receiving an order confirmation from Paypal shortly.
Exit Shopping Cart
Innovative Educational Solutions
Building the capacity of educators to serve ALL students.
| | |
| --- | --- |
| Posted on June 30, 2014 at 4:52 PM | |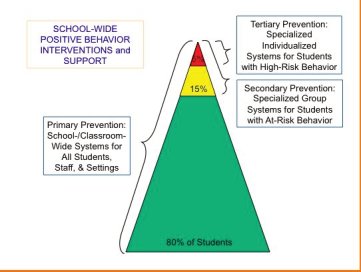 School-wide Positive Behavior Interventions and Supports (SWPBIS) is a systems change effort that focuses on improving school climate through the implementation of evidence-based practices in the area of behavior.
SWPBIS is characterized by six defining characteristics:
It is preventive in nature
It is designed to have an instructional orientation
There is a focus on cultural responsiveness
Behavior is viewed as function-based
There is a systems implementation focus
It is evidence-based (and evidence-based practices are used)


When SWPBIS is implemented in a school, with fidelity, one should be able to observe the following features:
over 80% of the student can state the expectations and give behavioral examples because the expectations have been taught, practiced, and acknowledged
positive adult-to-student interactions exceed negative interactions
the foundation for addressing problem behavior is function-based
data- and team-based action planning and implementation are apparent
there is active participation by site and district administrators
all students are provided with a full continuum of behavior support (not just students in special education)

Schools and districts that are interested in implementing SWPBIS need to understand that efforts to change the culture of a school will require true commitment and time. Sending teachers to a one-day inservice on behavior, or having a consultant come in and do a one-day training on behavior, will not result in sustainable change. It is important to understand implementation science and use this knowledge in designing professional learning experiences that will result in true systems change.
When training schools in SWPBIS, we focus on the following eight implementation steps:
Development of an implementation team
Development of a brief, positively stated, statement of behavioral purpose
Identification of 3-5 positive school-wide behavioral expectations
Development of procedures for teaching the school-wide expectations
Development of procedures for teaching classroom-wide expectations
Development of a continuum of procedures for encouraging and strengthening student use of school-wide behavioral expectations
Development of a continuum of procedures for discouraging student behavioral violations
Development of data-based procedures for monitoring the implementation of SWPBIS
Over the summer I plan on spending more time blogging on each of these eight steps.
If you are interested in receiving training in PBIS for your school or district, please contact me at
[email protected]
You can get more information about PBIS at the following sites:
www.pbis.org
www.pbiscaltac.org
Categories: Behavior, Discipline, Evidence-based practices, Leadership, PBIS
/