Shopping Cart
Your Cart is Empty
There was an error with PayPal
Click here to try again
Thank you for your business!
You should be receiving an order confirmation from Paypal shortly.
Exit Shopping Cart
Innovative Educational Solutions
Building the capacity of educators to serve ALL students.
| | |
| --- | --- |
| Posted on February 2, 2015 at 3:07 AM | |
Well, it's back to school time! That is, it's back to school time here in Australia. Today was the first day of school in Nganmarriyanga, and I learned a lot about what it means to be an educator in this remote Australian community.
I walked the short distance to school this morning, artfully dodging huge piles of horse poop that was deposited throughout the night by the Brumbies (feral horses). In fact, I wasn't surprised to see the horse droppings because I had lost quite a bit of sleep last night due to the galloping and whinnying that went on all night. The locals, and the educators who serve them, seem quite undisturbed by the wild horses. I think they're fascinating!
I got to school as children were finishing their breakfasts. Unlike American schools, children were eating their meals out of glass bowls, which were then washed by the canteen workers. I was invited into the transition classroom (equivalent to our kindergarten program, but all day). Children were slowly filing in, many with parents in tow. The first activity of the day was toothbrush distribution and tooth brushing. As each student arrived he or she was given a toothbrush, which was loaded with a dollop of toothpaste. The children went outside to the water fountains to brush their teeth and rinse their mouths. Following tooth-brushing was nose blowing and ear cleaning (using rolled up kleenex). This activity was accompanied by a song, which was sung by many of the children, as well as the teacher. Hygiene dealt with, we moved on to exercise, story reading and activities on the computers and the smart board. Throughout the morning parents came and went, sitting on the floor near their children.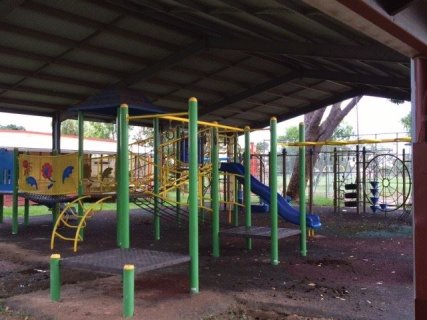 Children spent their recess time running and playing on the playground equipment found in the main part of the school grounds. The playground equipment is relatively new, and has safety ground-cover installed.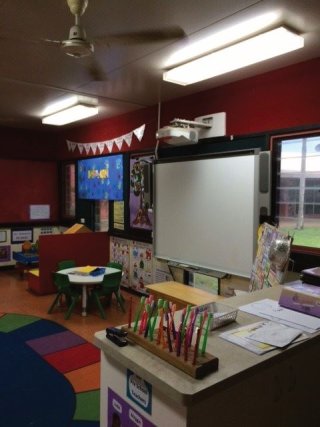 After a morning fruit break and recess, I decided to spend some time in the preschool classroom. It's a very full classroom, and several parents were in attendance. The children sang songs and the teacher spoke in both English and the local dialect. She also has an assistant who is fluent in the local dialect and who translated when needed.
After singing, we went to the library to pick out books and I got the opportunity to read with some of the students. We returned to the classroom and lunch (beef stew and bread) was served in glass bowls outside.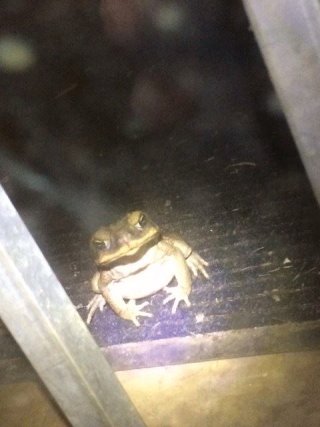 During lunch we caught a cane toad, a rather horrid looking beast that is predominant across Australia, despite being a rather recent addition to the ecosystem on the continent. Cane toads are pests and they procreate at an incredible rate. Once caught, they are put in a plastic trash bag and put in the freezer, which is (from what I understand) a very humane way of getting rid of them permanently.
After lunch the children went home and I spent time in a couple of other classrooms. After school I was working with some of the teachers when a group of students came and reported a snake in the preschool toilet. I guess that was the third snake seen on campus today: there was a large one seen in the main school yard, a smaller one seen on a pathway, and the unlucky fellow in the preschool toilet. Oh...and a fourth one...a baby one brought to us by one of the students.
Besides snakes, there are loads of dogs on campus. They are peaceful, quiet, and just hoping for a bite to eat. There were probably a dozen or so dogs wandering around the school grounds, which seemed very odd to me. Another interesting thing I discovered is that none of the students wear shoes to school, and neither do most of their parents. The children run through the playground and splash through the puddles in their bare feet (which was a little alarming to me, given the snake situation).

As I was packing up my things to go, I recognized a familiar tune. I exited the teacher's work room and found a small group of girls singing the song, "Let it Go," from the Disney movie Frozen. In some ways so very different...in other ways so very similar.

Categories: Direct Instruction, Evidence-based practices, PBIS, Reflections
/